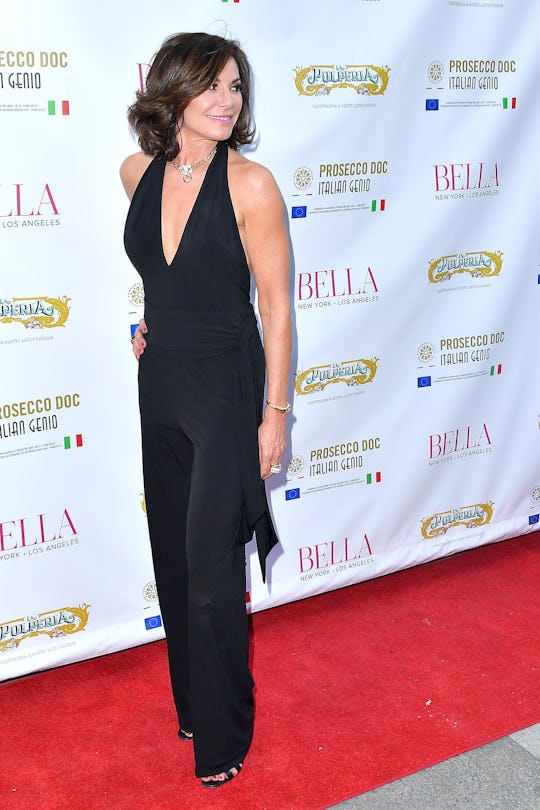 Michael Loccisano/Getty Images Entertainment/Getty Images
Here's Why Luann Was Arrested On 'RHONY'
The Real Housewives of New York star Luann de Lesseps made headlines during the show's offseason when she was arrested in Palm Beach. Most of Season 10 has taken place before her police run-in, but "You Broke the Penal Code" is set to explore its immediate aftermath. However, those who missed the finer details of the story when it first broke might be wondering: why was Luann arrested?
TMZ reported that Luann was charged with a felony count of resisting an officer with violence, as well as two misdemeanors: trespassing and disorderly intoxication. Us Weekly provided a clearer picture of what happened based on a police report they obtained from the Palm Beach Police. Apparently, Luann and a male friend entered the wrong room at the Colony Hotel, where they were staying. Hotel security was alerted and security guard Carlo Lopez attempted to remove them from the room. When that attempt was unsuccessful, the police were notified.
Per Us Weekly, Officer Mastrangelo wrote in the police report that Luann then locked herself in the bathroom and allegedly shoved another officer when he tried to detain her. She "slammed the door on Officer O'Leary's face, striking him in the forehead," according to Mastrangelo. Luann was eventually removed from the hotel room, but that wasn't the end of the altercation.
Once she was taken into custody, Luann reportedly slipped free from her handcuffs and tried to escape from the police car where she was being held. Mastrangelo described what happened next in his report:
De Lesseps was removed from the back of vehicle so I could re-secure the handcuffs on her wrists. […] As I was placing De Lesseps in the back into the vehicle, she stated, 'I'm going to f**king kill you,' and tried kicking the door to keep it from closing.
People reported that Luann pled not guilty to all the charges. She also rejected a plea deal that would have given her a speedier trial. According to Page Six, she would be in court again in April 2018, but it's unclear how her legal issues are currently progressing. The situation is likely ongoing. Luann mentioned her pending court date to Bravo's The Daily Dish, saying that it "looms over my head" and she couldn't wait for it to be done.
Luann expressed regret for her behavior on Twitter, and also released a statement about what happened. In the statement, she announced that she would be entering a treatment facility for help with her issues with alcohol. It read:
After the events of last Saturday night in Palm Beach, I am truly embarrassed. I have decided to seek professional guidance and will be voluntarily checking into an alcohol treatment center. I intend to turn this unfortunate incident into a positive life changing event. Once again, I sincerely apologize for my actions. I have the greatest respect for police officers and the job they do. My actions alleged in the police report do not reflect my core values and my law abiding character.
Luann went on to say she was grateful for all the love and support she received from family and friends. She seems to be trying to continue with her life as usual, reiterating to The Daily Dish that she was focusing on the positives and moving on with her life. But until her time in court is done, Luann will still be dealing with the fallout of her arrest, so it could be a few more weeks or months until everything is tied up. Until then, viewers can see how Luann handled the situation in Season 10 of The Real Housewives of New York.