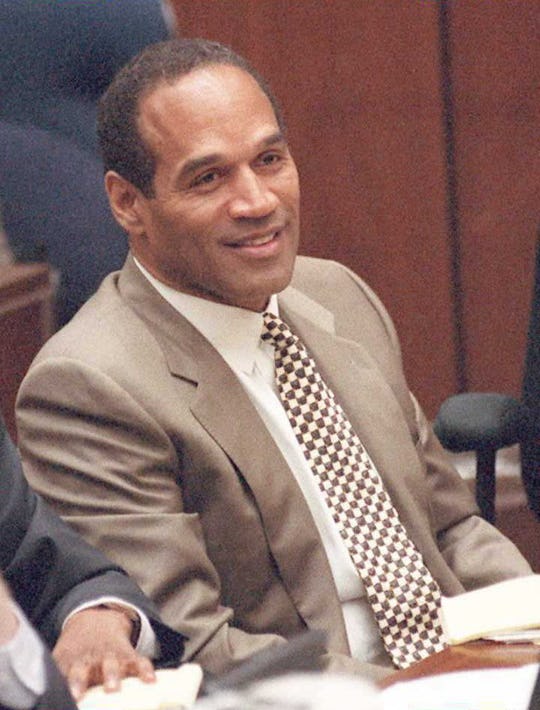 POOL/AFP/Getty Images
Why Was O.J. Simpson Nicknamed The Mayor of Brentwood? He Was Widely Known In The Community
In FX's American Crime Story: The People v. O.J. Simpson, O.J. Simpson is referred to as "the mayor of Brentwood" — which, though factually inaccurate, was a good analogy for the way Simpson was regarded in Los Angeles before he was accused of the murders of Nicole Brown and Ron Goldman. The court case, largely regarded as the trial of the century, may not have put Simpson behind bars — but it most definitely changed public perception of the man previously famous for playing football, starring in movies, and knowing everyone in L.A. Why was O.J. Simpson nicknamed "the mayor of Brentwood"? Because when it came to money, influence, and fame, Simpson had it all.
Simpson lived at 360 N. Rockingham Ave., in Brentwood, just two miles away from his ex-wife Nicole Brown's condo. He lived in the mansion for over 20 years, according to The Chicago Tribune, and both he and Brown were part of the Brentwood community for quite some time. Simpson was, before the trial, the picture of success: despite being raised by a single mother for the majority of his upbringing, despite joining a gang in his teens, Simpson managed to turn his life around and achieve pretty impressive heights. He won the Heisman Trophy early on in his football career, set several records in the NFL, and then continued on to enjoy a successful career as an actor and broadcaster.
"The thought of O.J. as a murderer was simply impossible to process for anyone who had ever had dealings with him," Sai Maiorana, who covered the Buffalo Bills for The Democrat and Chronicle, wrote recently. He continued:
He was one of America's leading men, star of TV, movies and commercials, the rare professional athlete who became more popular after his playing days were over. I'd had several opportunities to talk to him on his visits to Buffalo in his role as a football analyst for NBC, and he came off as the most normal mega-star that you could imagine.
One playwright, who turned his portrayal of O.J. Simpson's trial into an Othello-style play — titled The Tragedy of Orenthal: Prince of Brentwood — told LA Weekly, "You have a massively great character, who has a tragic flaw, who then succumbs to that flaw and essentially wrecks his life."
But it may well have been Simpson's honorary "mayor of Brentwood" title that helped him win his case. "The characters' worlds are tied to the L.A. neighborhoods they inhabit," Lila Seidman recently wrote for LA Weekly about American Crime Story. Simpson's influence and reach in Brentwood was visible in the lawyers he managed to scoop up for the trial: Robert Shapiro, Johnnie Cochran, and Robert Kardashian were all renowned lawyers with connections to Simpson. He had deep ties to Brentwood and such a successful story that he was well-regarded in his community (not to mention around the world).
Ultimately, Simpson's position as "mayor of Brentwood" in the minds and hearts of the people of Los Angeles may have helped his trial — but it likely made his fall from public grace that much harder.