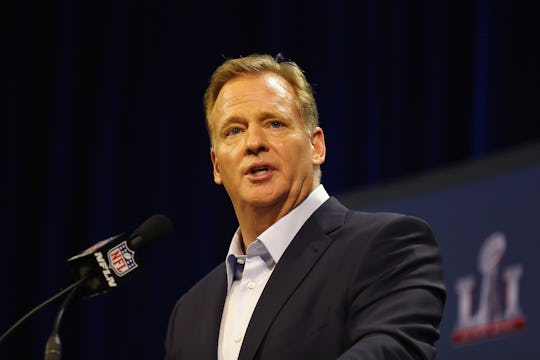 Tim Bradbury/Getty Images Sport/Getty Images
Why Did Fans Boo Roger Goodell At The Super Bowl?
After the Super Bowl, NFL Commissioner did not receive a warm welcome during the award presentation of the evening. So why was Roger Goodell booed during the Super Bowl? The commissioner has been accused of playing favorites with players, protecting his special "snowflakes" from any repercussions for their actions, and ensuring that the game comes first — no matter what pro athletes have been accused of. Despite the fact that an AP-GfK poll done a few years ago said 66 percent of NFL fans didn't want to see Goodell fired, the booing after the Super Bowl seems to indicate the fans may have changed their minds.
After the New England Patriots grabbed the victory during overtime (the first ever during a Super Bowl game), the celebrations began with the crowds cheering and confetti raining down. However, from the moment Goodell stepped onto the stage with the trophy, the crowd began booing. The crowds were so loud it became incredibly difficult to even hear what Goodell was saying. Once Goodell gave the trophy to the Patriots owner Robert Kraft, the crowd immediately stopped their booing and turned to cheers. The celebration was back on and the crowd was obviously happy to see Goodell leave.
Goodell has been tied to many hot-button issues during his tenure as commissioner, with scandals that included the infamous Ray Rice videos and the ongoing battle to have the Washington Redskins team name changed. When it comes to Goodell, it seems he doesn't hold any of the NFL players accountable and isn't too eager to make any changes to the program. Essentially, he's stuck in his ways, and fans are understandably not OK with that.
Similarly, while Goodell has been called out for letting a lot of players get away with pretty much anything, it's also been noted that he punishes players he seemingly dislikes for small things. For example, Colin Kaepernick was fined $10,000 by the league for wearing Beats by Dre headphones after the NFL had signed an exclusive agreement with Bose. Kaepernick was also fined $11,000 for using "inappropriate language" during a game, and this was all before he started taking a knee during the national anthem.
The list of Goodell's supposed wrongs goes on and on, but the point is fans seem to be officially tired of it. It's doubtful some booing will actually lead to any substantial changes in the league, but viewers were happy to see it happen nonetheless.
Fans quickly took to Twitter to share their appreciation for the crowds reaction to the commissioner and also show their support for it and call for his resignation. Maybe it's time for some new leadership after all? Only time will tell.