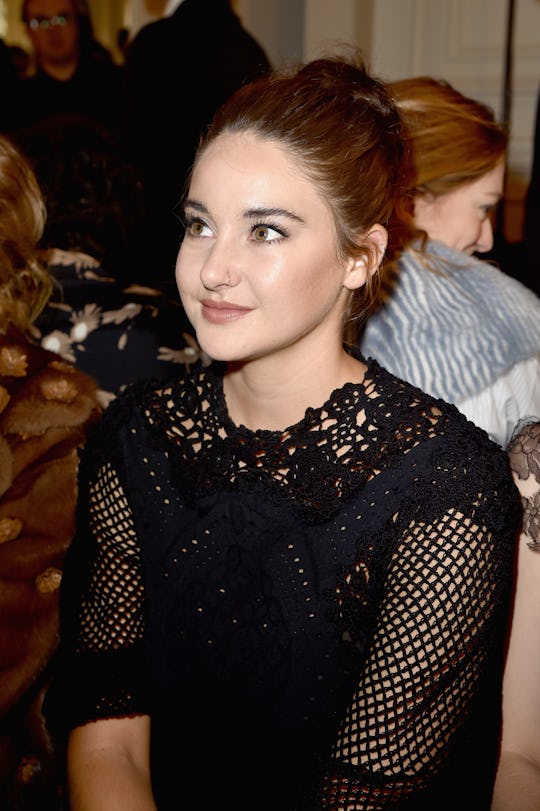 Pascal Le Segretain/Getty Images Entertainment/Getty Images
Why Was Shailene Woodley Arrested? She Was Protesting The Dakota Access Pipeline
Shailene Woodley, best known for her acting work in movies like Divergent, The Fault In Our Stars, and The Descendants, recently made headlines for a very different reason. Although she has since been released, Shailene Woodley was arrested on Monday for "criminal trespassing" while protesting the Dakota Access Pipeline. And she streamed the arrest on Facebook Live.
The building of the Dakota Access Pipeline has been rife with controversy. The pipeline will span four states, cost almost $4 billion, and transport around 470,000 gallons of oil per day if all goes according to plan. Though its supporters claim it will help the economy, the pipeline crosses a Native American reservation, and The Standing Rock Sioux Tribe fears that it could cause damage to their land and ruin their drinking water, claiming that the pipeline's builders did not properly consult them before they began construction.
The subsequent protests against the pipeline's construction have drawn many prominent voices, including Vermont Sen. Bernie Sanders and actress Susan Sarandon. And while multiple protestors have been arrested over the course of the past few months, Woodley certainly seems to be the most high-profile, raising the possibility that her arrest will draw even more attention to the cause.
Near the end of a two-hour Facebook Live video of Woodley peacefully protesting in North Dakota, police appear in riot gear. Woodley says,
I was heading back to my R.V. . . . so that we could return to camp peacefully. They grabbed me by my jacket and they said that I was not allowed to continue, and they had giant guns and batons and zip ties, and they're not letting me go.
Later in the video, she asks the police if they are arresting her because she is famous, saying, "I was down there with everybody else. I don't know what's going on? As soon as they came I left." The police say that she was "identified." Twenty-six other people were also arrested.
Woodley's friends soon expressed their support for her, with her Fault In Our Stars co-star Ansel Elgort tweeting,
Fault In Our Stars author John Green also spoke up.
Woodley spent the night in Morton County Jail in North Dakota, but according to what her publicist told E! News, she was released on Tuesday. Her publicist also told E! News that Woodley "appreciates the outpouring of support, not only for her, but more importantly, for the continued fight against the construction of the Dakota Access Pipeline."
Hopefully, Woodley's night in jail will cause some of her fans to take another, longer look at the proposed pipeline.