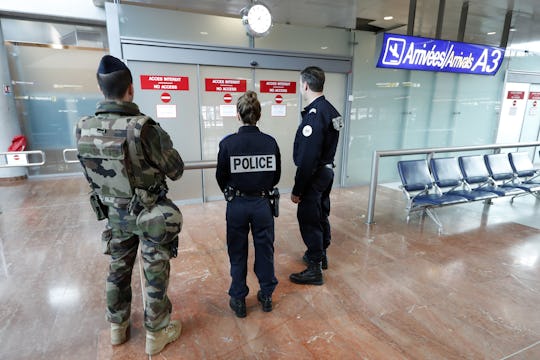 VALERY HACHE/AFP/Getty Images
Why Was The Nice Airport Evacuated? There Were Suspicions Of A Bomb
A day after the deadly Bastille Day attack in Nice, France, there has been an emergency evacuation in the Nice airport. Why was the Nice airport evacuated? Travelers were told to leave after after an abandoned bag in the terminal led to suspicions of a bomb, according to The Daily Mail. Witnesses told The Mail that they were ushered out of the terminal by the French Army, and that they heard a small explosion from inside following their evacuation.
According to The Independent, a "suspect package" had been left inside the airport, and given the city's high state of alarm following the events of the previous evening, everyone inside the airport was instructed to leave immediately, and the military was deployed to the airport's baggage claim area. Once the bag was determined not to be a threat, the evacuation was lifted, and travelers have since been allowed back inside the building.
The evacuation reflects the high level of alert and vigilance in the city in the wake of the horrific Bastille Day attack. An estimated 84 people were killed, and dozens more injured, after an as-yet-unidentified man drove a white panel truck through a crowd of people that had gathered to watch holiday fireworks, according to BBC News.
According to BBC News, witnesses of the attack said the man drove the truck into the crowd gathered on the Promenade des Anglais at around 11:00 p.m. local time, and continued for about 1.2 miles in a zig-zag pattern. He was then shot dead by police.
A father and son from Texas have been identified as two of the 84 people killed in the attack, according to ABC News. Fifty-one-year-old Sean Copeland and his 11-year-old son Brodie Copeland had been on a family vacation in Europe, and had been part of the crowd gathered to celebrate Bastille Day. Sean's niece Alyssa Weaver confirmed her uncle and cousin's death on social media early Friday, asking for prayers for her aunt, Kim, and two other cousins, Maegan and Austin, as they prepare to make their way home.
Although no terrorist group has come forward to claim responsibility for the attack, according to BBC News, ISIS spokesman Abu Muhammad al-Adnani has previously instructed ISIS followers to to use vehicles as weapons, just as the Nice attacker did. Thanks to airstrikes against ISIS by the United States, France, and other countries, the terrorist group is experiencing significant losses of territory in Syria and Iraq, likely intensifying its calls for anyone aligning with the group to carry out deadly acts in retaliation. It is not yet known, however, if the driver of the truck was a follower of ISIS, or if he had other motives. Police have yet to officially confirm his identity.