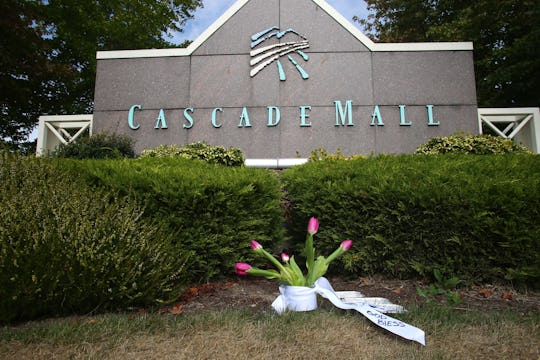 Karen Ducey/Getty Images News/Getty Images
Why Was The Washington Mall Shooting Suspect ID'd As Hispanic? Witness Reports Were Hazy
None of the people who went to the Cascade Mall in Burlington, Washington on Friday night expected to fear for their lives. But after one shooter opened gun fire in a Macy's department store, that is exactly what happened. As in any unexpected event, eyewitness reports can be a little hazy. Twenty-four hours after the event, the police finally found the alleged shooter, but the details, images, and stories that emerged from the in the aftermath, combined with conflicting reports by authorities, had many people have wondering why the Washington mall shooting suspect was identified as Hispanic, when updated reports show the alleged suspect was Turkish.
While the 24 hours after a crime might be the most important time in the investigation, it can also be the most difficult in which to decipher any of the clues. People can be visibly shaken while relaying their stories after bearing witness to awful crimes. When witnesses are fearful for their lives or traumatized by an incident, they might not get the best glimpse of the suspect either or remember all the details, allowing their brains to fill in the blanks, even if what fills them is incorrect. This was the case in the Friday night shooting: Initial reports about the shooting had identified the possible suspect as "Hispanic" — despite the fact that the alleged shooter, once caught, was found not to be Hispanic at all.
According to Al Jazeera, Sergeant Mark Francis said at a news conference on Friday night that authorities were searching for a "Hispanic male wearing grey" who had been spotted "walking towards a highway from a shopping center." Images from Macy's surveillance footage show what appears to be the suspect walking into the store and opening fire, according to USA Today.
A timeline from the night of the shooting, put together by KIRO 7 — a local news outlet in Washington — shows just how the description of the alleged shooter might have been a little misconstrued. The shooting happened just before 7 p.m. and by 7:30 p.m. PST, at which point a police sergeant tweeted a description of the alleged shooter, writing,
Active shooter description: Hispanic male wearing grey. Last seen walking towards I5 from Cascade Mall Burlington.
But at a press conference on Saturday morning, Mt. Vernon Police Lieutenant Chris Cammock said that conclusions about the alleged shooter's race had been quickly drawn for various reasons. "Photographs aren't exact replicas because we're taking it off of security footage but [it] appears to be a little darker complected, so I suppose race could be anything in there. But I think that's why conclusions are being drawn," Cammock told reporters according to KIRO 7. By 6:25 the alleged shooter, Arcan Cetin, had been arrested. Authorities later revealed that Cetin was Turkish, according to USA Today.
Although this sounds like a case of mistaken identity, the police lieutenant noted that, in spite of this temporary misinformation, police were still able to find the alleged shooter just 24 hours later.