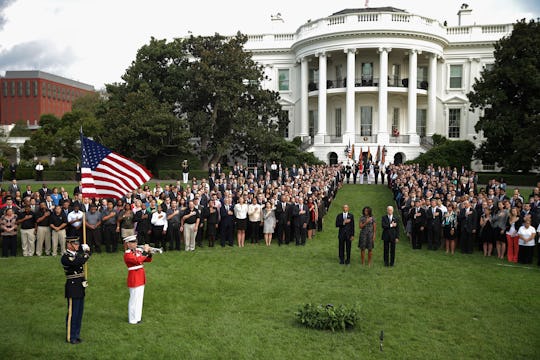 Chip Somodevilla/Getty Images News/Getty Images
Why Was The White House On Lockdown? Investigators Found A Suspicious Package
Following the Memorial Day services at the capitol today, the White House was put on lockdown after a women reportedly threw a package over the fence. The woman has been detained and the situation is reportedly under control. President Obama and the rest of the first family had just returned home from his speech at Arlington Cemetery. Although the woman has been detained, the north side of the White House is still on lockdown as officials investigate what was reportedly a container thrown over the fence on Pennsylvania Avenue Monday afternoon.
Reporters are apparently not allowed to leave the compound and there's been no official statement from the Secret Service about the container or the woman. After the woman was handcuffed, fire trucks and hazardous material teams arrived on the scene. It looks like everything is under control, but they're still inspecting the grounds at the White House as well. Given the holiday weekend, officials and first responders are operating with an abundance of caution.
This perimeter fence is the source of many White House lockdowns. In April, a jumper made it over the fence at the Eisenhower Building, next door to the capitol. The suspect was running after committing a robbery nearby, so jumping into the White House compound wasn't really planned (or a threat to national security. But the whole place was under lockdown for a hours following that incident, too.
Last week, another guy with a gun was stopped at a checkpoint on the property, leading to another White House lockdown. He was later shot in the abdomen by Secret Service and taken into custody. Again, officials swept the grounds for any further issues and then lifted the lockdown. No one was injured.
Like many of America's other "problems," some believe that a bigger fence would solve many of these security breaches. The Secret Service is currently trying to schmooze a new, 14 ft. fence for the perimeter, which they believe is totally necessary, since it's apparently pretty easy to hop the current one. "The current fence is currently deficient. It is not, now, a modern alternative to security. We want to move on to a stronger, higher fence," Thomas Dougherty, the chief strategy officer for the Secret Service said, according to The New York Times.
It's about finding a good balance between blocking people from just sliding over or tossing random packages onto the lawn and keeping the house semi-open and viewable for regular people. It's probably a good idea. Depending on her throw, a larger fence might not have prevented today's lockdown, but it's probably worth a shot. Anything helps when it comes to preventing what could turn out to be a more dangerous, pertinent situation.