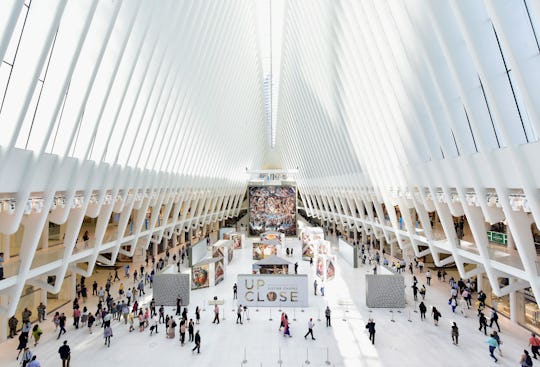 Eugene Gologursky/Getty Images Entertainment/Getty Images
World Trade Center PATH Station Evacuated
News broke on Sunday afternoon that a major public transportation hub had been evacuated in New York City. So, why was the World Trade Center PATH station evacuated? A suspicious package may be to blame. Per several sources, "Port Authority K-9 officers received a positive hit in a PATH rail car at the World Trade Center station," CBS reported.
While there were no immediate reports of violence, police still advised commuters to evacuate the station, with one building officer telling bystanders, "If there's a bomb in there, it would be to your benefit to leave," according to The New York Daily News. Police officers initially responded to reports of an unattended, suspicious package on Track 2 of the terminal, later confirming the need for evacuation.
It wasn't immediately clear how serious the situation was, or how long the station would be out of use, however, CBS reported that station employees were "allowed back into the Oculus at the World Trade Center just before 4:15 p.m." The World Trade Center PATH station serves both the "Newark - World Trade Center and Hoboken - World Trade Center lines," according to the Port Authority. At the time of publication, it didn't appear that the threat had taken on an elevated level. However, as one station employee told the Daily News, "This is the World Trade Center. We have to be careful."
As is all too painfully real, terrorist attacks in major cities across the world are on the rise, and the heartbreaking aftermath from September 11, 2001 is still something every American remembers. So, when a suspicious package is left behind, taking precautions seems like the most logical response (especially since reports indicated that "bomb-sniffing dogs were on site," it's seriously so reassuring that authorities evacuated the building before anything dangerous happened).
By early Sunday evening, authorities noted that "PATH service at WTC station is resuming after an unattended item was cleared by police." The Port Authority also advised that "passengers should anticipate residual delays."
While it may seem to be merely an inconvenience for many passengers, the swift response of law enforcement agents and building staffers is truly heroic. Unfortunately, we live in a time where a suspicious package could mean unspeakable acts of violence, and "residual delays" are just the price we pay to stay safe.
So, while the World Trade Center PATH station was largely back up and running in no time, Sunday's evacuation served as a visceral reminder to be vigilant, aware, and cautious — no matter how regular your routines are.