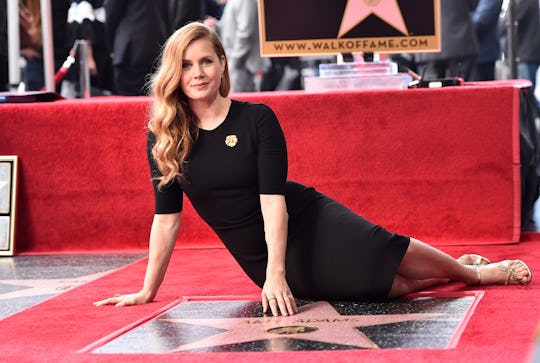 Alberto E. Rodriguez/Getty Images Entertainment/Getty Images
Why Wasn't Amy Adams Nominated For An Oscar?
The 2017 Oscar nominations were released Tuesday morning, and while the list was praised for its diversity, there was a snub that had fans and film critics confused. Why wasn't Amy Adams nominated for an Oscar? The five-time nominee was in two films this year that took several nominations, including Best Picture, but she was left out of the Best Actress category.
Even though a brief SNAFU on the Academy's website listed Adams as a Best Actress nominee for her role in Arrival, the actress was not in fact nominated this year. Adams was in two films this year that were suspected to take home Oscar nods, and many critics expected that the actress would be among them. Many also thought this could be the year Adams finally won her Oscar, having been nominated five times for films like American Hustle, Doubt, and Junebug.
This year, Adams starred in Arrival, which was nominated for Best Picture, and Nocturnal Animals, for which her co-star Michael Shannon was nominated for Best Supporting Actor. Many critics started generating Oscar buzz for Adams last year for the two films, one sci-fi action and the other a psychological thriller, which showcased her ever-evolving range.
In an interview with Entertainment Tonight, Adams was totally humble about the prospect of being nominated for either role. While many wondered if she could end up competing against herself, Academy rules state that an actor can't be nominated twice in the same category. So, in other words, Adams wouldn't have wanted to submit both performances anyway — if she picked her best, that would get the votes, as opposed to having the votes for her split between two roles, with neither winning.
"I'm always grateful if I get to be there," she told Entertainment Tonight, "If not, then that's OK too. I'm happy to support really good films. I'm in the Academy, so I'll be voting for the awesome films and performances I've seen so far."
Adams also just celebrated another celebrity milestone: she was awarded her star on the Hollywood Walk of Fame last week. Adams has continued to get interesting leading lady roles since she hit the scene in Junebug back in 2006, for which she got her first Oscar nomination. Prior to that, the actress had mostly been doing TV work and had a supporting, but memorable, role in the Leonardo DiCaprio hit, Catch Me If You Can.
Since her first Oscar nomination, Adams has gone on to have starring roles in comedies, dramas, superhero action movies, scifi thrillers, and even Disney musicals. Her role as the princess, Giselle, in Enchanted is one of her most beloved, and allowed her to use her background as a singer and dancer.
She also has starred opposite Meryl Streep twice: in 2008's Doubt, and 2009's Julie & Julia. Several other films she's starred in have generated award buzz and become fan favorites, including: Her, Big Eyes, The Fighter, The Master, and Miss Pettigrew Lives For A Day.
Although this may not have been Adams' year to win big, she's got an impressive resume to be proud of. And she's got some great stuff in the pipeline this year, including playing Lois Lane in Justice League, a TV series called Sharp Objects based on the book by Gone Girl author Gillian Flynn, and is reprising her role as Princess Giselle in the Enchanted sequel — Disenchanted.
So, even though Adams might be disappointed about getting snub for a nom, she's not short on versatile, interesting roles that get to showcase her many talents, so hopefully she doesn't feel too disenchanted herself.