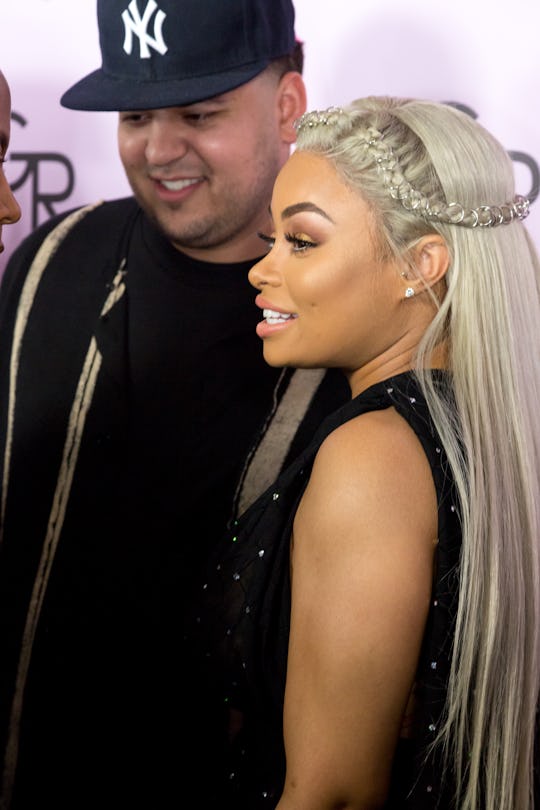 Greg Doherty/Getty Images Entertainment/Getty Images
Why Blac Chyna Wasn't At The Kardashian Christmas
Stalking celebrity social media accounts is a fun guilty pleasure for many and this Christmas the Kardashian family gave their followers something to talk about over spiked eggnog. It looked like the whole gang got together to unwrap gifts on Sunday, but with only 19 stockings — including stitched stockings bearing the names of Kylie Jenner's boyfriend Tyga and mom-ager Kris Jenner's significant other Corey Gamble — there was noticeable no stocking for the mother of Rob Kardashian's daughter, which has led many to wonder why Blac Chyna wasn't at the Kardashian Christmas.
As Elite Daily pointed out, Blac Chyna's name wasn't the only one missing from Kylie Jenner's Snapchat post of the stockings — a stocking for Khloé Kardashian was also missing. But, that's possibly because she's reportedly spending the holiday in Cleveland with her boyfriend Tristan Thompson, according to Hollywood Life. So maybe Blac Chyna simply wasn't physically at the Christmas celebrations, like Khloé.
But after many public feuds documented on the pair's E! reality series Rob & Chyna and recent fights displayed on social media, many are wondering if the stocking was an intentional omission. After all, she reportedly "wasn't invited to Kris' Christmas Eve party last night because of a fight she had with Rob," according to Elite Daily.
The fight reportedly happened because Blac Chyna allegedly drunkenly assaulted the 29-year-old father, which led to an argument that almost ended their engagement, according to People.
A source told Elite Daily that Blac Chyna wasn't invited to the extravagant holiday party because the Kardashians "are over" her. The unnamed source explained to Elite Daily:
Rob's family is trying to distance themselves from Chyna. They can't stand the toxic relationship. They very much care about baby Dream though. It's just come to the point when they think Rob is better off without being in a relationship with Chyna.
But on Christmas Eve, it appeared that the couple had reconciled after the alleged explosive feud. In a series of Snapchat posts on Saturday, Blac Chyna cuddled up with Rob and wrote "Happy Holidays" in one photo of them and she even thanked Kris Jenner and Kim Kardashian West in videos that showed wrapped gifts from them.
Whatever the reason Blac Chyna wasn't at the Kardashian Christmas, it appears that the mom-of-two has a strained relationship with the family. Perhaps it was an intentional way to snub Blac Chyna, or maybe it was a planned social media post to stir up drama before the next airing of the E! reality show.
But, when you consider the recent drama that unfolded on social media over the past few weeks, it would make sense that she didn't celebrate the holidays with Rob's family. But, who knows, after watching them on TV for years, it's clear that anything is possible with the Kardashians.