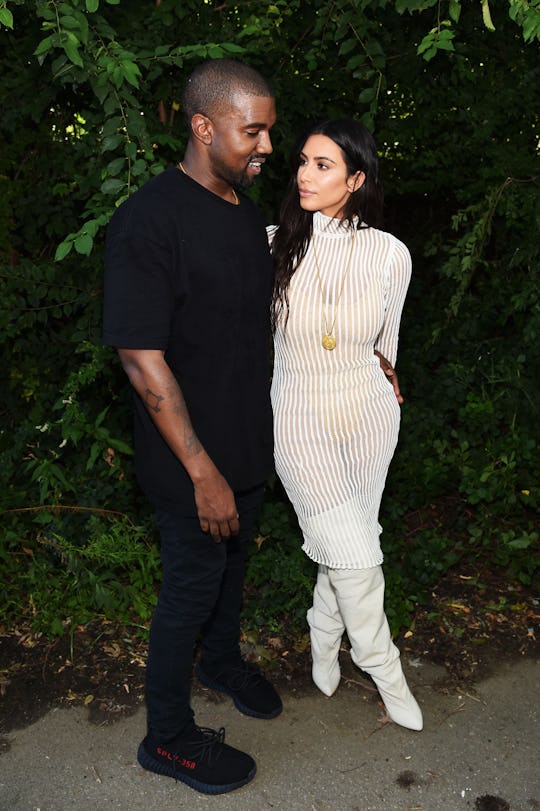 Jamie McCarthy/Getty Images Entertainment/Getty Images
Kanye West, North & Saint Snag 'Harper's Bazaar's New Cover, But Where's Baby Chicago?
Another new day, another stunning photo shoot featuring members of the Kardashian-West family. This time, North, Saint, and Kanye West posed for Harper Bazaar's "ICONS: The First Families of Music" spread, a feature dedicated to music icons and their kids. Cute, right? And to make matters even sweeter, the crew's snap is featured on the magazine's September cover. Still, as much as there's there's a lot to love about the adorable photo, some fans can't help but question why Chicago West wasn't included in her family's new photo shoot. Although it's understandable for fans to wonder about little Chi's whereabouts, some people are taking things too far by insinuating she was purposely left out. *Facepalm*
Every year, Harper's Bazaar covers "ICONS" for its September issue. Harper's September 2017 spread featured a mix of models and musicians, including but not limited to: The Weeknd, Karlie Kloss, and Travis Scott. And its September 2016 issue highlighted Kim Kardashian and West in their first photo shoot as a married couple. "I decided that my icons this year would be two people I really like and respect," Carine Roitfeld, the global fashion director of Harper's Bazaar shared at the time, according to the magazine's press release. "Kanye is a genius. Kim is beautiful and shines with confidence. They are artists, great parents, friends, and talented people."
Considering Roitfeld is a big fan of West and Kardashian, it's really no surprise she decided to feature their family in the magazine's September 2018 issue. And it looks like Roitfeld made a good call here because the black-and-white pic is absolutely heartwarming. From North's pose on West's photos to Saint's unsure expression, the cover is gold.
Kardashian, as one might expect, is also a fan of the pic. "My babies," Kardashian captioned an Instagram post featuring the cover.
Sadly, however, some people decided to question Chicago's whereabouts instead of focusing on the precious trio.
"Where IS Chicago?" one person demanded on Instagram.
Another fan chimed in: "Where's chicago tho."
"But where's Chicago? Smh," a commenter wrote.
"Where's baby Chic? Kanye doesn't have enough hands?" someone else remarked.
Of course, it's highly unlikely Chicago was left out as some sort of snub. The probable scenario? Chicago wasn't old enough to participate in the photo shoot. Consider all of the clues pointing to this explanation, like West's lightened hair in the photo. West dyed his hair a mix of yellow and pink in April, according to GQ, just two months after Chicago made her big debut. And if the shoot was done around this time, fans can probably understand why Kardashian kept her at home — a production studio is no place for a new infant.
Another thing to consider? It's possible Chicago wasn't born yet at the time of this shoot. September is an important month for magazines, and these types of spreads are planned months in advance due to high interest. "I think the average woman, the average magazine reader understands that the September issue is a big deal," former Glamour Editor-In-Chief Cindi Leive explained to Fashionista. "The fact that people are tweeting at me, 'Who's going to be on the cover of your September issue?'--that level of hunger would not have existed five years ago."
Speculation about Chicago aside, fans had a lot of positive things to say about the snap.
"Best Cover ever," a fan gushed.
"Her kids are so beautiful," someone else chimed in.
"So beautiful kim, lovely husband and lovely family," a commenter penned.
Aww. It's nice to see some fans appreciate the photo for what is — a beautiful expression of love.
I think most fans can agree there's nothing wrong with the Harper's Bazaar cover. Chicago doesn't have to appear in every single photo shoot, and the same goes for North and Saint. At the end of the day, it's just a photo.