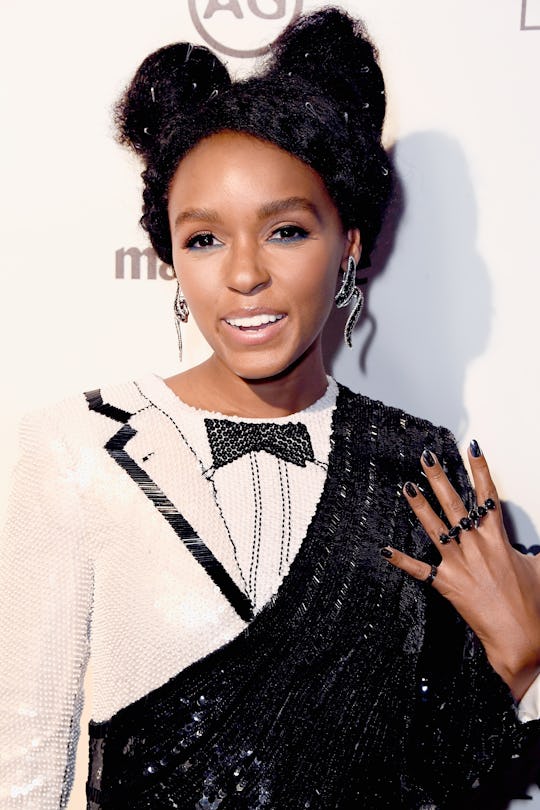 Frazer Harrison/Getty Images Entertainment/Getty Images
Janelle Monáe Was Snubbed For 'Hidden Figures'
She sings, dances, and has graced the screens of some of the year's most acclaimed films, Moonlight and Hidden Figures. So why wasn't Janelle Monáe nominated for an Oscar? It appears her work got lost among all of the incredible performances this year. But overlooking Monáe's amazing work this year is a stunning oversight by the Academy.
Both of her supporting roles were magical and noteworthy, but it was her co-stars who snagged the Oscar nominations for "Actress In A Supporting Role." For Hidden Figures, Octavia Spencer got the nomination from the Academy, according to The Washington Post. And for Moonlight, one of the most celebrated films of the year, it's Naomie Harris' performance which has been singled out for the award nomination.
Although it feels like a huge mistake for the Academy to overlook Monáe's first foray into films, she still has plenty to keep her busy. She is an acclaimed musician, with her most recent full album The Electric Lady, being released in in 2013, according to Billboard. She's also a committed activist in the Black Lives Matter movement and stopped by the Women's March on Washington to deliver a powerful speech.
"To me, feeling like the other as a woman or as a member of the LGBTQ community is parallel to what it will be like for androids in the future," she told Billboard cryptically. "I only date androids. Androids will embrace the unique even if it makes others uncomfortable. That's what I'm looking for: uniqueness."
Monáe, with all of her uniqueness and talent, can't be put in one simple category, or labeled just an actress, or just a musician. She told The Guardian she considers herself to be a storyteller first and foremost.
"I've never viewed myself as 'just' a musician or singer," she told The Guardian. "I'm a storyteller who wants to tell untold, meaningful, universal stories in unforgettable ways. I want to do it all, study it all and find my place in it."
Monáe grew up in Kansas City, Missouri in a huge, working class family that still inspires her today.
"My grandmother had 11 children and although we didn't have a whole lot of money, what we did have was a lot of love," she told The Guardian. "My grandmother was the matriarch. If you didn't have a place to stay, if you needed food, if you were just coming out of jail or rehab, you went to her. Watching her in our family and our wider community was what inspired me and still does."
So while Monáe fans might be bummed that the creative powerhouse won't be adding an Oscar to her already large list of professional accolades, which includes six Grammy award nominations, take heart. At just 31-years-old she still has plenty of stories to tell. She'll get 'em next time.