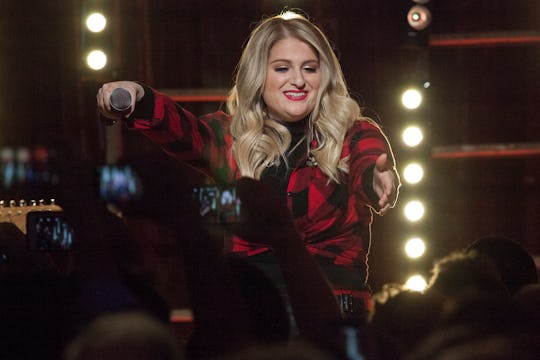 Santiago Felipe/Getty Images Entertainment
Why Wasn't Meghan Trainor Nominated For Best New Artist Last Year? The Recognition Is Overdue
The 58th Annual Grammy Awards nominees were announced on Monday, and alongside the list of obvious nods, there were a few that raised questions for music fans. For example, pop songstress Meghan Trainor was named as a nominee in the Best New Artist category. The recognition makes total sense, as anyone currently addicted to Trainor's bouncy hits "All About That Bass," "Walkashame," or "Like I'm Gonna Lose You" will attest. But the Grammy nod — however well-earned — might seem a bit, well, late. Why wasn't Meghan Trainor nominated last year, when she actually arrived on the music scene?
Trainor has certainly made an impact since she debuted her first single. Her perky, popular sound was been a natural fit for cute diaper commercials with dancing babies and a plethora of hilarious, good-humored parodies. In a piece for CBS Los Angeles, music critic Hayden Wright called Trainor "a unique and worthy addition" to the new artist category, adding that her catchy, doo-wop sound was just "too powerful to ignore."
In fact, the singer-songwriter has been active on billboard charts since the release of her first single "All About That Bass" in June 2014, according to Mic. And it's the timing of Trainor's success thatmakes her recent Grammy nomination so confusing.
According to Mic, the best new artist category in the Grammy Awards is typically given to "a new artist who releases, during the eligibility year, the first recording which establishes the public identity of that artist." But the complicating factor is the eligibility period for Grammy Award consideration: the National Academy of Recording Arts and Sciences uses an October to September calendar rather than the January to December calendar year. So, only recordings released between October 1, 2014 and September 30, 2015 would be eligible for the 58th Annual Grammy Awards.
Trainor's first single, "All About That Bass," was released in June 2014 — too late to be considered for a 2016 award. But her first album, Title, was released in January 2015, an ideal time for 2016 consideration. And while fans certainly took to Trainor's number-one hit in a way that her subsequent songs haven't quite replicated, one could easily argue that an artist's first album is the best means of establishing their real public identity.
Adding to the confusion, Trainor has gotten Grammy nominations in the past. According to Billboard, "All About That Base" got 2015 nods in both the Record of the Year and Song of the Year categories, though the singer ultimately lost out on both. But in a strange loophole, those acknowledgments didn't disqualify Trainor from the Best New Artist category this year. According to The Guardian, the Academy changed the nomination rules in 2010 to avoid snubbing new-ish artists.
"More and more, the first release of a new artist is as a featured artist on someone else's album, or the new artist may release a single long before the release of [their] first album," a Grammy spokesperson told The Guardian at the time. The 2010 change allowed artists to be considered for Best New Artist unless they'd already released an album or received a Grammy.
So, Trainor's Grammy nod, however delayed, was clearly by the book. Still, fans will have to watch the ceremony to see whether Trainor manages a triumph over the likes of Tori Kelly or James Bay.