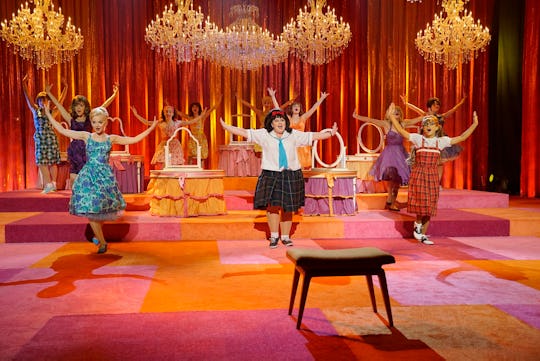 Chris Haston/NBC
Why Wasn't "New Girl In Town" In 'Hairspray Live!'? There Wasn't Enough Time
Hairspray Live! was filled with a lot of great songs from both the musical and the 2007 film, but there's one song that was clearly missing from the live event. So why wasn't "New Girl in Town" included in Hairspray Live!? It seems there just wasn't enough time to include it in the show, which is a shame since it's such a great number. After Tracy danced her way onto The Corny Collins Show, fans of the 2007 film version of Hairspray were expecting Amber and the other ladies of the show to burst into song. But instead, the score of "New Girl in Town" could only be heard in the background while Penny and Tracy's parents watched her on the TV. But the song wasn't actually performed.
Although the song was in the film, "New Girl in Town" wasn't actually a part of the original Broadway musical, which may be why it was cut for the live production. However, as many fans pointed out, "Ladies Choice" wasn't in the musical version either, so why was that included? It seems it all just came down to a matter of time and choice. While "New Girl in Town" wasn't included, "Mama, I'm a Big Girl Now," from the musical was part of the broadcast. So I guess we just can't have it all.
Still, fans were definitely disappointed not to see "New Girl in Town." The song, which is performed by Amber and her fellow mean girls only to then be taken over by the black singers and dancers that perform on "Negro Day," is a fan favorite because of how catchy it is, but also because of the history behind it. During the '60s it wasn't all that uncommon for songs done by black performers to be redone by white performers and then repackaged as a new song. Although the song definitely isn't needed in the musical and doesn't necessarily add anything to Tracy's story, it is a fun song with a historical background and the fact that it wasn't included was definitely noticed.
Even without "New Girl in Town," Hairspray Live! is still an amazing live production and all the songs and dance numbers have been very well done. It's not surprising that all the songs fans wanted to hear couldn't be fit in (the event is already three hours long), but I'm happy with just how much they were able to include and how well done each song was. Sometimes less is more and that seems to be the case here.
If you missed Hairspray Live! make sure to check it out on Hulu on Wednesday because everyone will definitely be talking about it.