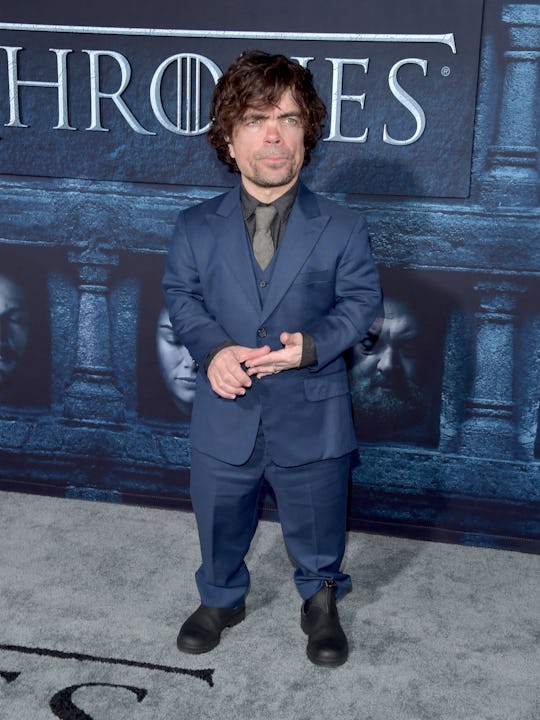 Alberto E. Rodriguez/Getty Images Entertainment/Getty Images
Why Wasn't Peter Dinklage Nominated For A 2017 Golden Globe? 'GoT' Didn't Get Many Nods
The nominees for the 2017 Golden Globes have been announced, but Game of Thrones didn't quite see the love this year, receiving only two nominations in total. While the show did get a nod for Best Drama Series, the only actor who specifically earned a nomination was Lena Headey, for Best Performance by an Actress in a Supporting Role in a Series. Though Peter Dinklage usually gets a lot of attention come awards season (and often ends up taking home a win), he didn't snag a nom this year. So why wasn't Peter Dinklage nominated for a 2017 Golden Globe?
Though he didn't have much luck at the Golden Globes this year, Dinklage has had the honor of being nominated for the awards before. After Game of Thrones first debuted, Dinklage was nominated for – and won! – a Golden Globe for Best Supporting Actor in a Series, Miniseries, or Television Film in 2012. And while he's been nominated for six Emmys and won two, Dinklage hasn't regularly received a Golden Globe nod since that first year.
While Dinklage's performance every season has been praised by both critics and his costars, there seems to be something of a pattern here. Despite his undisputed acting abilities and the fact that Tyrion is an audience favorite, Dinklage just doesn't seem to get Golden Globe nominations as often as he gets Emmy noms.
It's possible there was just too much competition this year. Game of Thrones has a huge ensemble cast and everyone in it ends up battling it out in the supporting categories because there is no clear lead on the show. This means that not only was Dinklage going up against a lot of great actors from a variety of different shows, but he was also going up against all of his talented co-stars. With that much competition, it must have been tough for the Golden Globes committee to narrow things down.
And while Tyrion is a great character – and Dinklage certainly knows how to sell a monologue – the most recent season of the show wasn't necessarily a huge season for him. He absolutely had his standout moments, but Tyrion's storyline was secondary to that of Daenarys (Emilia Clarke). He didn't quite get his moment to shine.
Yet just because Dinklage didn't get a nomination, that doesn't mean his performance is unappreciated. Fans of the show have adored Tyrion since the very first season, and all those Emmy nominations certainly count for something. He may not have snagged a nomination at the 2017 Golden Globes, but Dinklage still deserves all the praise.