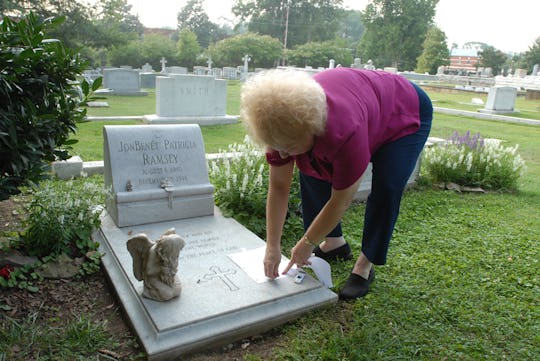 Barry Williams/Getty Images News/Getty Images
Why Wasn't Sexual Assault Ruled Out In JonBenet's Case? Details Are Terrifying
When JonBenét Ramsey died in 1996, she had been struck in the head and strangled. Yet, despite no evidence of rape, why wasn't sexual assault ruled out in JonBenét's case? Her autopsy report revealed that among her injuries, JonBenét had abrasions on her vaginal mucosal tissue.
James Kolar, the former lead investigator in JonBenét's death, wrote in an opinion article for Fox News that reports from five physicians who examined her autopsy found that she had been sexually assaulted for a period of time, not just on the night of her death. JonBenét's mother and father, Patsy and John, as well as her brother Burke, have never been charged with her death or for sexual assault. All have also been cleared as suspects as the result of DNA evidence. Romper reached out to the Ramsey family's representation, but did not hear back in time for publication.
At just 6 years old, JonBenét was a successful beauty pageant winner, often wearing heavy make-up and looking older than her age.
"It's impossible to look at these photos and not see a terribly exploited little girl," Denver Chief Deputy District Attorney Karen Steinhauser told reporters in a 1997 interview published by People. "You get this uncomfortable, sad feeling that she didn't get the chance to be a normal 6-year-old kid."
Greg Walta, who was the attorney for detective Lou Smit, said in an interview in 2000 that he believes the DNA found under JonBenét's fingernails is a sign that the attack came from an intruder. He added it's common for such DNA to end up under the nails "when somebody is strangled. They struggle and scratch the intruder or the assailant. That was found and there was DNA found in her panties, none of that belongs to any of the Ramsey family."
In an interview on Larry King Live! in 2000, JonBenét's father John said he believed the killer "was a pedophile." He said, "There are several key pieces of evidence that we think will lead us to the killer, male, pedophile."
Later on, John admitted that JonBenét's participation in beauty pageants may have attracted unwanted attention. In a 2012 interview with ABC, John said the pageants "possibly might have drawn attention to us." He added that, during a Christmas parade JonBenét participated in shortly before her death, "Patsy's mother later told me that a strange man approached the car during the parade and it made her uncomfortable. I think about these things now and it makes me cringe. We were so naïve. I now believe with all my heart that it's not a good idea to put your child on public display."
To this day, JonBenét's death remains unsolved. CBS will air a six-hour special, The Case of: JonBenét Ramsey, on Sept. 18.