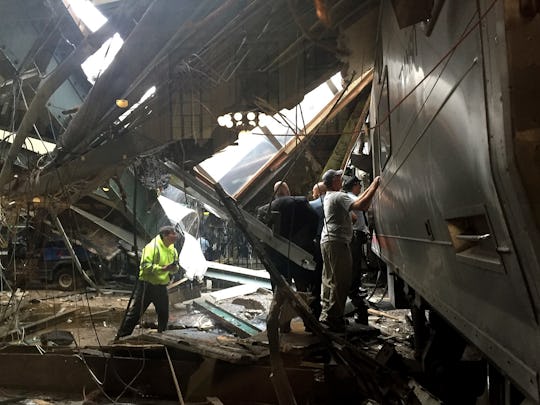 Pancho Bernasconi/Getty Images News/Getty Images
Why Wasn't The Emergency Brake Used On The New Jersey Train? It May Not Have Helped
On Thursday at 8:45 a.m, a New Jersey Transit train crashed into a platform Hoboken Terminal. The train entered the station at a high speed, injuring more than 100 people and killing one. The station's structure was also badly damaged. Why wasn't the emergency brake used on the New Jersey train? The train that crashed did not have an automatic braking system installed.
New Jersey Transit trains have not yet been equipped with positive train control technology, which can stop or slow down trains that are going too fast. The deadline to install the technology on all rail routes nationally is Dec. 31, 2018.
Jamie Weatherhead-Sal, who was riding train when it crashed, told NBC New York that the train felt like it never stopped. "It didn't slow down. It didn't brake," she said. The train should have stopped 10-20 feet before a bumper block meant to stop trains from going too far past the station. Instead, it slammed into it, witnesses said. "It went up and over the bumper block, through the depot ... and came to rest at the wall by the waiting room," New Jersey Transit worker Mike Larson said in an interview with CNN.
Leon Offengenden, who was riding the train, told CNN the first car of the train derailed:
The front car [was] essentially off the rails ... into the building of the station, with the roof sort of collapsed around it. The first car was just demolished.
Gus Ubaldi, an expert on railroad engineering, said in an interview with CBS New York that although it is possible the brakes failed, it's also possible the crash could have not been prevented if the train derailed. "If the wheels are no longer on the rails, if you apply the brakes, it's not going to stop the train because the train is out of control," he said.
Ubaldi also suggested that the National Transportation Safety Board's investigation will probably begin with the train driver:
The train didn't stop. The train engineer is the man in charge of controlling the train. So the question comes down to…why didn't he? Did he have a medical episode, [or] somehow he became incapacitated?
Until authorities figure out why the driver lost control of the train, "it becomes a little harder to say what could have been done to prevent that," Ubaldi added.
Other transit workers believe there's no way the crash could have been caused by mechanical error. "The train had to brake 438 times before this," Rick Ciappa, a safety inspector for NJ Transit who was working at the station at the time of the crash, told Asbury Park Press. "I don't think it was brake failure."
Ciappa added that NJ Transit's trains' brakes are tested each day.