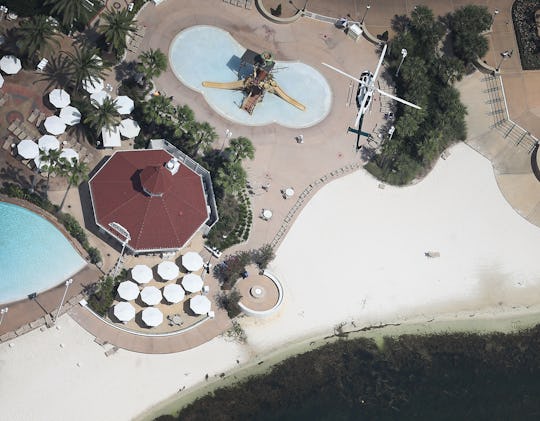 Joe Raedle/Getty Images News/Getty Images
Why Wasn't There An Alligator Sign At Disney? Lane Graves' Tragic Death Raises Questions
Tragedy struck Walt Disney World's Magic Kingdom on Tuesday night when Lane Graves, a 2-year-old guest of the Grand Floridian Resort & Spa, was dragged into a manmade lagoon by an alligator and drowned while his parents watched helplessly. While the beach did feature signs noting that swimming was not permitted in the Seven Seas Lagoon, many are questioning why there were no alligator warning signs at Disney, which may have prevented this senseless loss. Disney has yet to respond to Romper's requests for comment regarding the signs and will update once we hear back.
Update: In a statement to Romper, Jacquee Wahler, Vice President of the Walt Disney World Resort, wrote, "All of our beaches are currently closed, and we are conducting a swift and thorough review of all of our processes and protocols. This includes the number, placement and wording of our signage and warnings."
According to the Daily Mail, the neighboring Hyatt Regency Grand Cypress hotel features clearly posted signs warning of alligators in the water, and has for at least three years. Signage at the Grand Floridian only prohibits swimming, and makes no mention of the predators. Orlando's WESH News did spot one sign elsewhere on Disney property stating "Do not feed or go near the alligators," but no such sign was posted at the lagoon when Graves was killed. Orange County Sheriff Jerry Demings has mentioned in press conferences that there are "no swimming" signs posted at the lagoon, but sheriff's office spokesperson Jeff Williamson said that "My understanding is that he was not swimming." Multiple witnesses report that Graves was wading by the water's edge, which is not expressly prohibited.
There are more than one million alligators in Florida, but a family from Nebraska, as the Graves are, couldn't be expected to know that. It's also understandable that even someone who knows about the prevalence of the deadly creatures in the state might assume that they're safe within the walls of a family resort. But poking around in a few Disney forums reveals that alligator sightings at the park are quite common in the water, on the beaches, and even on the rides. Executive director of the Florida Fish and Wildlife Conservation Commission Nick Wiley said in a press conference that Disney employees "routinely take out alligators in the lakes and on the property at large," so they're clearly aware of the issue.
Further lulling guests into a false sense of safety is the fact that the lagoon doesn't look like a wildlife habitat; not only does it lack signage or fences, the area where Graves was attacked was a beach, complete with sand, umbrellas, and lounge chairs. The hotel was reportedly hosting a family movie night on the beach when the incident occurred. The Seven Seas Lagoon was constructed in 1971, and was originally designed for swimming and surfing, according to Florida's News 13. Use of an artificial wave machine was eventually discontinued after it caused erosion to the beaches, and swimming was prohibited once bacteria was discovered in the water. The lagoon is still used for boating, fishing, and even kayaking, even though it's known to be home to a number of predators. Disney has closed all beaches following Graves' death, and it's not currently known if or when they'll reopen, or under what circumstances.