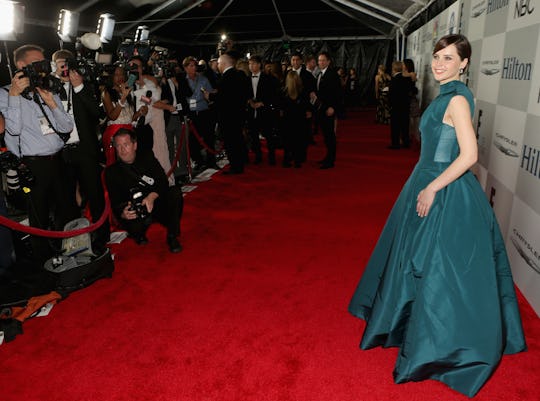 Jesse Grant/Getty Images
Why We Need to #AskHerMore — NBC's 2016 Report Card Seriously Improves
It's 2016, but sometimes it feels like award shows — and the shows that cover them — haven't quite realized it yet. We get it, girls get to wear more fashionable clothes than guys do, and fashion interests some people. But with esteemed actresses in front of them, some reporters only manage to ask about the dresses they're wearing or the accessories they're flashing. The Golden Globes #AskHerMore report card was better this year than in previous years.
The #AskHerMore campaign only began to gain attention in 2014. It asks reporters to dig a little deeper than designer labels when it came to their red carpet questions for actresses. Before the 2016 Golden Globes, Eva Longoria, Jennifer Lopez, and Julianne Moore took to Instagram and Twitter to campaign for better questions. They all used L'Oreal's hashtag #WorthSaying, making me wonder if this will be the #AskHerMore of 2016. I'm loving it, since it bypasses the media's say in the matter — it doesn't matter if the media asks an actress more or not, the actress is still going to be talking about what's worth saying.
It sounds like reporters are listening, which is fantastic. E!'s red carpet coverage actually substantially improved this year compared to last year. In 2015, several celebrities were asked who they were wearing before they were asked anything else, which wasn't repeated at all by the reporters on the red carpet this year, whether they were a part of E! or NBC. E! asked nine female celebs and five male celebrities who they were wearing, but it was always the last question asked, after celebrities were questioned about their movies, shows, or families. Last year, that number sat at three male celebrities and 12 females, so things have improved.
More proof came of more inclusive awards show coverage: E! asked new father Wiz Khalifa about parenting. Olivia Wilde was also asked about babysitting rates and, and Will Smith and Jada Pinkett Smith talked about their children, as well. It was progressive to see several fathers asked about their families, and almost all the actresses on the red carpet had a chance to talk about their projects.
Actress and director Bryce Dallas Howard, who was presenting at the Golden Globes, turned the question around on E!'s Giuliana Rancic, as well. When asked who she was wearing, Howard answered "Jenny Packham," but added in that she'd picked it up at the department store. "I like having a lot of options for a size six, as opposed to maybe one option," she explained.
At one point, it seemed like actress and singer Taraji P. Henson was going to be asked about her dress — but she quickly and gracefully cut Ryan Seacrest off. It could have been my imagination, or it might be that she was on to a different topic, but either way, it was nice to see her decide for herself that she didn't want to talk about her dress right then. Even if it was gorgeous.
One of my all-time favorite quotes that perfectly sums up why we need the #AskHerMore campaign comes from Patricia Arquette at last year's Oscars red carpet. According to The Independent, when E!'s Ryan Seacrest asked her about her manicure — or lack thereof — and she told him what she did instead:
It's pretty funny, there's this silly mani-cam business going on and I was supposed to get a manicure this morning. But instead I was working on launching this Chideo site for an experience where you can enter a sweepstakes and go with me on a global mission with one of our projects with GiveLove.org, where we do ecological sanitation work in the neediest communities around the world.
Way to go, Arquette. If they refuse to #AskHerMore, girls should turn it around and #TellThemMore — which Arquette did beautifully.
Images: Jesse Grant/Getty Images