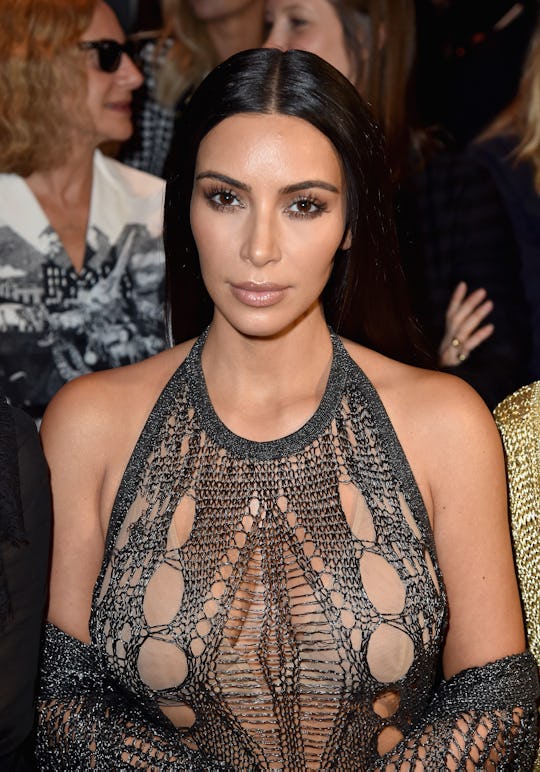 Pascal Le Segretain/Getty Images Entertainment/Getty Images
Why Wearing A Kim Kardashian Robbery Halloween Costume Is Completely Inappropriate
Dressing up as a celebrity for Halloween isn't usually problematic, unless you're being disrespectful, appropriating their culture or race, or — you know — ridiculing something terrible that happened to someone. For Kim Kardashian, the nightmare of the robbery she was a victim of in Paris has now been exploited by a few Halloween Costume companies. It seems obvious, but everyone should remember why wearing a Kim Kardashian robbery Halloween costume is completely inappropriate.
This isn't a joke: a Halloween costume retailer called Costumeish designed and is selling a costume based on the recent headlines involving Kardashian. She was robbed at gunpoint in Paris last week and has been reeling in the aftermath. The website, which calls the costume "Parisian Heist Robbery Victim" — thereby sidestepping any legal trouble from the Kardashian family — did not immediately respond to Romper's request for comment. Though it is a pretty obvious nod to Kardashian's trauma, not just in appearance, but by description as well.
The "costume kit" includes: "White Short Sexy Robe," "Long Black Wig," "$4 Million Dollar Ring," "Large Sunglasses, "Fake Gag," and "2 inches of Rope." The description of the costume from the website reads as follows:
This Halloween it's all about the #Hallomeme and who better than America's goddess of all things glamorous "Parisian Heist Robbery Victim Costume?" She has devoted her life to promoting American decadence, youth, and hedonism but all that flashy living caught up with her one night in Paris when armed men bound her, stole her jewelry and her peace of mind. This Halloween have some fun with pop culture and dress just like the Queen of Social media with our sensational "Parisian Heist Robbery Victim Costume" Costume.
The costume kit costs $69.99 and has already caused outrage on the internet for what Twitter users are calling its tastelessness. The website offers plenty of other celebrity-inspired kits, and this isn't the first time it has created a controversial costume. Last year it offered a costume inspired by Donald Trump's comments about Megyn Kelly at the GOP debate where he alluded to her period ("Blood coming out of her . . .wherever"). The costume wasn't even a vague allusion; it was literally called "Foxy Megyn's Bloody Tampon"
The Kardashian-inspired costume seems to be a yet another example of how the Kardashian family members are treated not as real-life people, but characters. While it's true that they have long been on our television screens in reality TV with Keeping Up With The Kardashians, they are still real people.
Certainly the robbery that Kardashian was a victim of in Paris was not just terrifying for her and her family, but was accomplished because two men who played on the blind trust in law enforcement that many people have.
The two robbers were dressed as police officers, which is why they were permitted into the Kardashian hotel room, according to Refinery29. They proceeded to not just rob Kardashian of millions of dollars worth of jewelry, but bound and gagged her — and threatened her life.
Mocking violence that someone has experienced is not only rude and tasteless, it promotes a culture of victim-blaming and jokes about violence against women that keeps people — women, specifically — from reporting acts of violence committed against them. This isn't even the first time the Kardashian women have been victims of violent acts only to be mocked by the media and "fans" for it later.
But arguably the violence that Kardashian experienced crossed a line from verbal threats (which are still terrifying) to very real, life-threatening action — and to have that trauma mocked not just by the media, but by a money-grabbing industry like a costume site is indicative of a culture that doesn't take violence against women seriously.
In the current sociopolitical climate, where politicians and others in power are actively using women who are victims of trauma as talking points, the costume is more than just tasteless: it perpetuates the idea that women are objects, not people, and that women who are successful, attractive, vivacious, or are in any way putting themselves out into the world are inherently "asking for" whatever violence, mistreatment, or criticism comes there way.