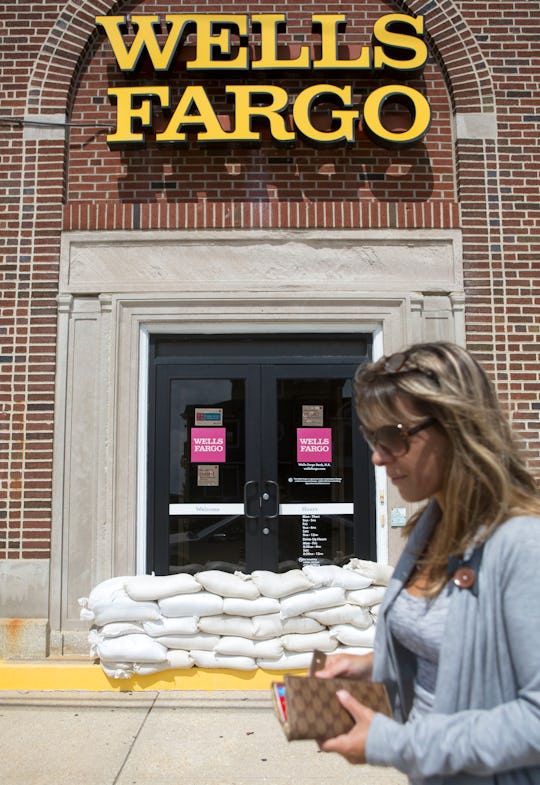 Jessica Kourkounis/Getty Images News/Getty Images
Why Were 5,300 Wells Fargo Employees Fired? The Bank Is Caught Up In Controversy
An alleged scandal worthy of a dramatic screenplay has been playing out at Wells Fargo over the past few years without anybody knowing it. News broke on Thursday that employees of the financial institution had been secretly creating millions of unauthorized bank and credit card accounts since 2011. Richard Cordray, director of The Consumer Financial Protection Bureau (CFPB), claimed these illicit actions were taken by employees to "hit sales targets and receive bonuses." Wells Fargo confirmed that 5,300 employees were fired for participating in this financial fraud to CNN Money on Thursday.
On Thursday, a Wells Fargo spokesperson commented on the controversy currently surrounding the financial institution, saying in an email,
It is important to understand the context, the five year period involved, and the size of our workforce. The 5,300 terminations took place from Jan 2011 to March 2016. The actions we have taken with respect to team members and managers reflect our commitment to monitoring and addressing any inappropriate sales conduct. On an annual basis, more than 100,000 team members worked in our stores, and the number terminated, about 5,000, represents about 1 percent of this workforce over the five year period. While we regret every interaction that was not handled properly, the number of instances and team members involved represent a very small portion of our business.
While Wells Fargo is correct in pointing out that the majority of its employees did not participate in these corrupt practices, it still does little to quell the fears of the customers who were reportedly taken advantage of.
Wells Fargo hired an independent consulting firm to investigate the corruption within the company, which concluded that employees opened over 1.5 million unauthorized accounts. According to the CNN Money report, these employees would allegedly move funds from existing accounts into the new, fake accounts created without customer's consent, and it would result in customers being charged for insufficient funds and overdraft fees for their original accounts.
Wells Fargo employees not only allegedly opened fake accounts, they also reportedly submitted 565,443 applications for credit cards in customers' names without their knowledge. CNNMoney reported that roughly 14,000 of those fraudulent accounts racked up over $400,000 in fees. As the Wells Fargo spokesperson pointed out in the company's statement, not all 5,300 employees were fired at once. They were fired on a rolling basis over a span of five years as it was uncovered they were participating in this widespread problem.
Wells Fargo has agreed to completely reimburse all customers who fell victim to this widespread practice. Customer restitutions will amount to around $5 million, which Wells Fargo has reportedly made provisions for as of June 30. The company, which is one of the country's largest banks, also agreed to pay a $100 million fine to the CFPB's civil penalty fund.
This controversy is large enough that it almost seems as though it can't be real. While it's absolutely distressing for Wells Fargo customers to learn that they may have been cheated by an institution they should be able to trust, it's a small comfort that Wells Fargo is being transparent about the situation, if nothing else.