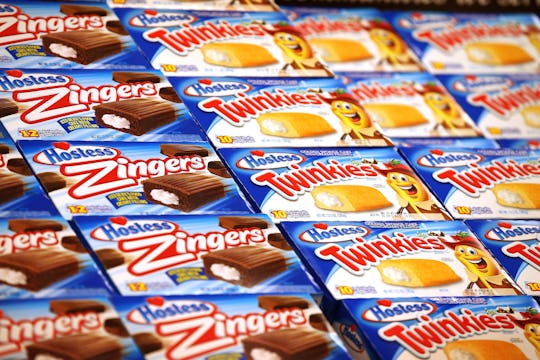 Scott Olson/Getty Images News/Getty Images
Why Were Hostess Snacks Recalled? Anyone With Nut Allergies Should Check Their Cupboards
If you were considering grabbing a Ding Dong or Zebra Cake for a quick snack, you may want to put on the brakes if you have a nut allergy. On Monday morning, Hostess Brands, LLC announced it is voluntarily recalling a number of its treats, cakes, and donuts. So, why were Hostess snacks recalled? The company reported that it were made the announcement "out of an abundance of caution."
CBS News reported that Hostess recalled about 700,000 cases of various kinds of snacks after its flour supplier, Grain Craft, alerted Hostess that Grain Craft's snack ingredients may have come in contact with undeclared peanut residue. The packaging on the Hostess products states that they are completely free of peanuts and safe for those with allergies, which may no longer be the case. The recall included bags and boxes of sweet treats, as well as single serve packages sold in grocery stores, drug stores, dollar stores, bodegas, and convenience stores in the United States, as well as Mexico.
According to a press release, Hostess said that the products have only been exposed to trace amounts of peanut residue, and, consequently, they are not expected to cause severe allergic or analphylactic reactions. The company wrote,
While those who have an allergy or severe sensitivity to peanuts run the risk of serious or life-threatening allergic reaction if they consume products containing peanut allergens, the amount of peanut exposure from use of the flours and affected products is considered to be low and not expected to cause adverse health effects in the vast majority of peanut allergic consumers. [...] Out of an abundance of caution, we are recalling the specific products listed on the attachment.
Even so, according to WTNH.com, two allergic reactions that were traced back to Hostess products have been reported. To be safe, anyone with any kind of nut or peanut sensitivity or allergy are advised to dispose of any Hostess products or return them to wherever they were purchased for a refund. If you consume the products in question and begin to experience the symptoms of an allergic reaction, such as hives, tingling sensation in the mouth, coughing, swollen lips and face, stomach cramps, dizziness, swelling of the throat, or difficulty breathing, seek medical attention immediately.
According to the U.S. Food and Drug Administration, the recalled products include Chocodile Snacks, Ding Dongs, Zingers, Chocolate Donuts, Crunch Donuts, Glazed Mini Donuts, Powder Donuts, and Maple Donuts. Check your snack item's UPC, batch, and best-buy date by referring to the complete FDA list.
For more information, contact Hostess directly at 1-800-686-2813 or visit www.hostesscakes.com.