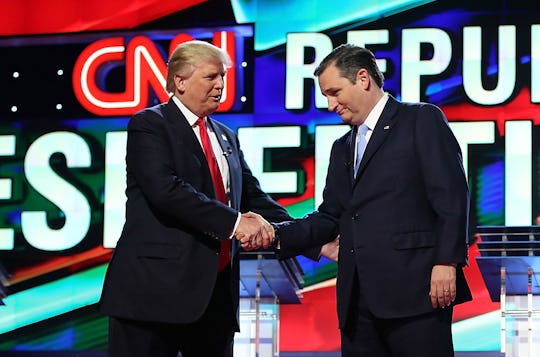 Joe Raedle/Getty Images News/Getty Images
Why Will Ted Cruz Support Donald Trump? Reports Say He's Warmed To The Candidate
Many prominent GOP officials have come around to endorsing Donald Trump after holding out initially. Ted Cruz is one politician who hasn't yet come around. And he's been quite defiant about it. In July, the Texas senator famously told voters to "vote (their) conscience" instead of endorsing Trump. But now, it seems Cruz might be changing his tune, according to Politico. Although neither Cruz nor his official aides have confirmed that he will endorse Trump, multiple anonymous sources have said so.
It's not clear what exactly made the former primary candidate warm to Trump, but there could be a few reasons. Recently, Trump's campaign did issue a press release supporting a cause Cruz has been fighting for, according to the Atlantic, although the statement did not mention Cruz by name.
Cruz has been fighting to stop the Obama administration from relinquishing an internet directory of web addresses, which Cruz thinks will give foreign powers control of the Web. After Trump's press release, Cruz went to Twitter to publicly thank the presidential nominee. That was the first sign that Cruz might think anything of Trump except that he's a "pathological liar," "utterly amoral," "serial philanderer" who is "terrified by strong women." These are all things Cruz said of Trump in May of this year, according to the Washington Post.
But Cruz's past aversion to endorsing Trump was not unjustified. And he's not the only prominent Republican to admit that he doesn't support the candidate. Some high-profile GOP politicians, including former presidents George W. Bush and George H. W. Bush won't be voting for Trump. Mitt Romney, Jeb Bush, and John Boehner will also not be voting along party lines this year.
But it's personal between Cruz and Trump. Earlier this year, the GOP nominee inappropriately and immaturely tweeted about Cruz's wife.
Trump also insinuated that Cruz's father was involved in the assassination of John F. Kennedy, according to USA Today. After these attacks on Cruz's family, the senator decided to withhold endorsement at the GOP Convention. Cruz was booed on stage as it became clear he would not support the Republican candidate. Later, he defended himself and did not waver in his decision when questioned and pushed to support Trump by his Texas constituents.
So the news of an endorsement might come as a surprise. But it also mirrors a general sentiment in the country. People are warming to Trump. Hillary Clinton's lead is narrowing, and the race will be tighter than pundits thought it would be just one month ago. Could it be Trump's new, softer tone? Or the lower frequency of outlandish, inflammatory statements? Or the fact that he uses a teleprompter these days and stays on message more often? Many have noted that Trump has been acting more "presidential" as of late, and that might be why Cruz is deciding to jump on board. Or perhaps he just asked himself the age-old question: WWRD?