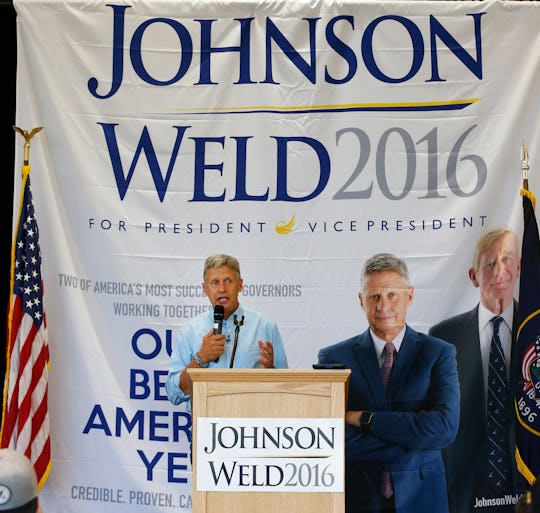 George Frey/Getty Images News/Getty Images
Why won't Gary Johnson's Vice Presidential Pick Be At The Debate? Third Party Rules Apply
If Republican vice presidential nominee Mike Pence gets to debate on Tuesday, and Democratic vice presidential nominee Tim Kaine gets to debate on Tuesday, then why won't Libertarian presidential nominee Gary Johnson's vice presidential pick be at the debate as well? It's an important question that many people haven't even thought to ask. As it turns out, both the presidential and vice presidential nominees need to reach the 15 percent polling threshold in order to receive an invitation to debate — and since the Johnson-Weld ticket is currently polling at 8 percent nationally, Libertarian vice presidential candidate Bill Weld is barred from debating.
Despite Johnson's subpar national polling numbers, the Libertarian ticket is doing well this year — so well, in fact, that Weld himself is concerned about taking votes from Democratic presidential nominee Hillary Clinton. According to a recent interview with Weld at The Atlantic, the former Republican Massachusetts governor is dismayed that the Libertarian ticket is taking just as many votes from Clinton as from Republican presidential nominee Donald Trump. Traditionally, Libertarians take votes from the Republican candidate, but due in large part to Clinton's unpopularity with young voters, many potential Democrats are polling for Johnson.
"We are drawing 50-50 [from the two major parties], but that's before people hear everything I have to say about Mr. Trump for the next seven weeks," Weld said. In other words, Weld plans to badmouth Trump as much as possible in the weeks leading up to the general election. In another recent interview with MSNBC's Chuck Todd, Weld went so far as to say he's "not sure anybody is more qualified than Hillary Clinton to be president of the United States."
Weld's remarks drew controversy from Libertarian supporters who felt these statements were a betrayal to Johnson. In a subsequent clarification, Weld noted on CNN that while Clinton's qualifications are better "on paper," he unequivocally believes that Johnson's policies are superior — and that, as president, Johnson would implement these policies. Weld also defended his running mate against his recent gaffes.(Johnson failed to name a single world leader during an interview, and he didn't seem to know what the Syrian city of Aleppo was during another interview.)
"You know, pop quizzes on TV are just not Gary's long suit," Weld told CNN. He emphasized that Johnson's stance against military interventionism, in contrast to both Trump's and Clinton's hawkish philosophies, is "more important than the place names."
Whatever Weld's beliefs about foreign policy, most of the nation won't get to hear much about it, since he won't get to debate. And, as Johnson supporters have long argued, that just might do a disservice to our democracy.