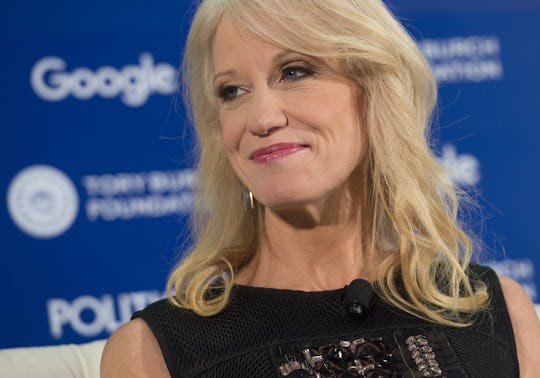 SAUL LOEB/AFP/Getty Images
Why Won't Kellyanne Conway Take A Job in Trump's White House? There's A Double Standard
President-elect Donald Trump's adviser Kellyanne Conway became the first female presidential campaign manager of a winning campaign. She's served as Trump's right-hand (wo)man, helping him nominate important people to his Cabinet. So it'd seem obvious that Conway would take on a role in the White House herself — but it seems like she doesn't plan to. Why Trump's adviser Kellyanne Conway won't take a job in the White House?
Conway has been working as a Republican strategist to help the party reach women for decades. She's run her own polling business, which she established in 1995, while being a mother. So if Conway has always been a working mother, why won't she take a position in the Oval Office?
"My children are 12, 12, 8 and 7, which is bad idea, bad idea, bad idea, bad idea for mom going inside [the White House]," Conway said at Politico's "Women Rule" event. "They have to come first and those are very fraught ages."
Conway mentioned that working in the White House and making TV appearances on Trump's behalf would require more than a full day's work.
But Conway's line of thinking falls right into a double standard trap. "[Working mothers] still have to make choices and there are limits," she said at the event.
Conway has previously mentioned that she's not big on gender-identity or hiring someone because of gender. Yet during recent interviews for Cabinet positions, she asked male candidates what they'd think if their wives were up for the same role:
I do politely mention to them that the question isn't, 'Would you take the job?'...but 'Would you want your wife to?' And you really see their entire visage change. It's like oh, no, they wouldn't want their wife to take that job.
But apparently, it's OK for working fathers to take those jobs. In the days following Trump's election, Conway wrote on Twitter that she'd been offered a position in the White House.
However, in an interview with The Wall Street Journal, Conway said that she was leaning toward heading a group that would support Trump's legislative agenda and defend his cabinet nominations. "He's worked too hard and he's far too committed for me to watch from a comfortable perch in the West Wing window all that be squandered," Conway told The Wall Street Journal.
No matter what role she plays in the White House, Conway said she "will continue to have a great relationship with the president and vice president and be totally supportive of what they're trying to do for this country."
President Barack Obama's Senior White House adviser Valerie Jarrett also spoke at the "Women Rule" event, and mentioned she's had private conversations with Conway to persuade her to take a position in the White House.
I encouraged her to give it a try...because the experience inside the White House, working with somebody who you respect and know as well as she does the president-elect is unique... [I]f you have a relationship with your boss such that you can say, 'look, this is a top priority. There's nothing more important for me than being a good mom, but I think I can be a good mom and have the flexibility enough to do this job well.'
Conway insists that all women, including mothers, will be welcome in Trump's administration. And of course, she has the right to decide what's best for her career and for her family.
But what kind of example is she setting for working mothers with aspirations to one day work in the White House by refusing to take such an important position because, by her logic, taking such a job would mean a woman isn't putting her kids first? How family-friendly can the workplace environment in the Trump administration truly be if someone as close to the president-elect as Conway feels that she may be overburdened or because motherhood (unlike fatherhood) would keep her from doing the work?
Conway's actions speak louder than her words.