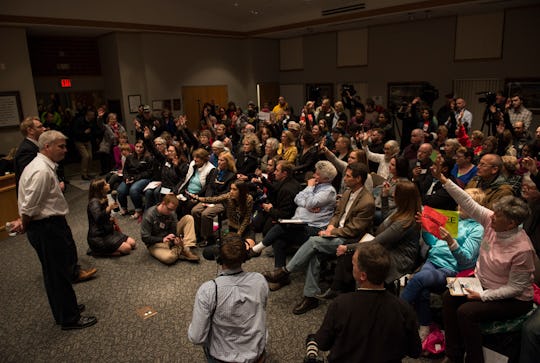 Stephen Maturen/Getty Images News/Getty Images
Why You Should Bring Your Kids To Town Halls
The last few weeks may have been a wake-up call for Republicans in Congress coasting on voter loyalty. GOP lawmakers from across the country, in big cities and small towns, are facing down angry constituents at town hall-style meetings. Frustrated voters are demanding answers from their state politicians about the upheaval in Washington D.C. and what that means for their future. Children like Toby Smith have also taken their lawmakers to task at these gatherings, showing us exactly why you should bring your kids to your local town hall meeting. As cliche as it may be, children are our future, and they should have the chance to shape it.
On Wednesday evening, Arkansas Republican Sen. Tom Cotton stood on stage in the Springdale High School auditorium, fielding questions from a packed crowd of fed-up residents. That includes 7-year-old Smith, who, the Washington Post reported, begged the senator — 33 years his senior — to save the Public Broadcasting Service (PBS) and the National Parks. President Donald Trump, Smith said Wednesday, "is deleting all the parks and PBS Kids just to make a wall ... and he shouldn't do that. He shouldn't do all that staff just for the wall." According to the Washington Post, Smith received the loudest applause of the night.
Kids Have A Voice, Too
In an "effort" to cut federal spending, Trump has floated the idea of privatizing the Corporation for Public Broadcasting, which funds NPR and PBS, and eliminating the National Endowment for the Arts and National Endowment for the Humanities, according to the Washington Post. Losing PBS has huge implications for kids like Smith. That means they would also lose access to PBS Kids, which is considered a "trusted and vital resource" for school preparation, according to a recent PBS survey. Yes, parents could express why PBS is important, but hearing it straight from the people who would be most affected by its loss (that being Smith and his peers) is necessary in understanding the impact.
Children Need To See Democracy In Action
GOP lawmakers from Utah, Arkansas, Kentucky, California, Virginia, Colorado and other states have all faced backlash at scheduled town halls. Early this month, Utah Republican Rep. Jason Chaffetz fielded voter questions as constituents chanted "do your job," according to Cosmopolitan. Children need to see that. Sure, Chaffetz and other Republicans will twist the story by saying paid protestors bombarded their town halls. But witnessing democracy firsthand will leave a long-lasting impression on your child.
As Cliche As It May Be, Children Are Our Future
Journalist. Politician. Organizer. Advocate. Lawyer. Paralegal. Ambassador. President. Your child — and all children — have the power to change the world. And they have the opportunity to enter professions that can keep lawmakers in check. Town halls help expose your kid to the political system — how it works and the role they do and can play. Giving them the opportunity to engage in that system will show your child the power they have in holding politicians accountable.