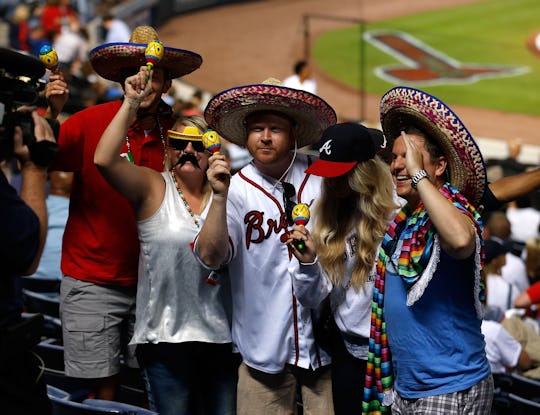 Mike Zarrilli/Getty Images Sport/Getty Images
Why You Shouldn't Celebrate Cinco De Mayo — At Least Not The Way You May Have Planned
For most Americans, Cinco de Mayo calls for a midweek fiesta with several tequila shots, a few margarita pitchers, and possibly a mariachi band, all while wearing a sombrero. The Mexican holiday has taken a commercialized and stereotyped meaning here in the United States, and the significance and true meaning of the day has effectively been lost, acting instead as a reason for people to run out and buy half-off tacos and BOGO tequila shots. This year, instead of giving into the hype, stop and consider why you shouldn't celebrate Cinco de Mayo and remember why it's a holiday in the first place.
In short, Cinco de Mayo — or the fifth of May — marks the Mexican army's unlikely victory in 1862 over France at the Battle of Puebla during the Franco-Mexican War. Cinco de Mayo is sometimes mistaken as Mexican Independence Day, which actually happens on Sept. 16 and is the most important national holiday in Mexico. Cinco de Mayo is actually celebrated more in the United States than it is in Mexico, where it's seen as a relatively minor holiday celebrated sporadically and mostly in the southern town of Puebla, where the original battle took place.
In a 2006 interview with National Geographic, José Alamillo, professor of ethnic studies at Washington State University in Pullman, said Cinco de Mayo is celebrated in towns and cities across the United States that are predominately non-Hispanic. "It's definitely becoming more popular than St. Patrick's Day," Alamillo said.
Unfortunately, the popularity of Cinco de Mayo in the United States is often a spectacle of stereotypes, not only in bars and Mexican restaurants but even on TV morning shows and broadcast news.
In 2014, a MSNBC morning show was forced to apologize after airing an offensive segment that featured a producer shaking a maraca and doing a shot of tequila. Again in 2014, an ABC News anchor apologized for wearing a sombrero and shouting "Ole!" while referring to the day as "Cinco de Drinko."
Cinco de Mayo in America has transformed to a genuine misrepresentation of Mexican culture and while Americans having a good time on May 5 and taking selfies with fake mustaches and sombreros might seem harmless, it can be construed as offensive and mocking to Mexicans.
Sure, the true history behind Cinco de Mayo is as good a reason as any to party, the way Americans have been celebrating it has essentially transformed the holiday into one of food, booze, and cultural appropriation.
There's nothing wrong with having some tequila and a few tacos on Cinco de Mayo, of course. But rather than going about the day in a disrespectful manner this year, try to celebrate in a way that doesn't offend the culture to which it belongs, and respects others' Mexican heritage.
In a nutshell: Ditch the accents, sombreros, and adhesive fake mustaches. Instead, maybe go to a local Mexican restaurant for truly authentic cuisine or learn how to make your own tortillas, or even just pick up a book on Mexican history. If we can all learn to celebrate and not stereotype, then that's absolutely a reason raise your glass.