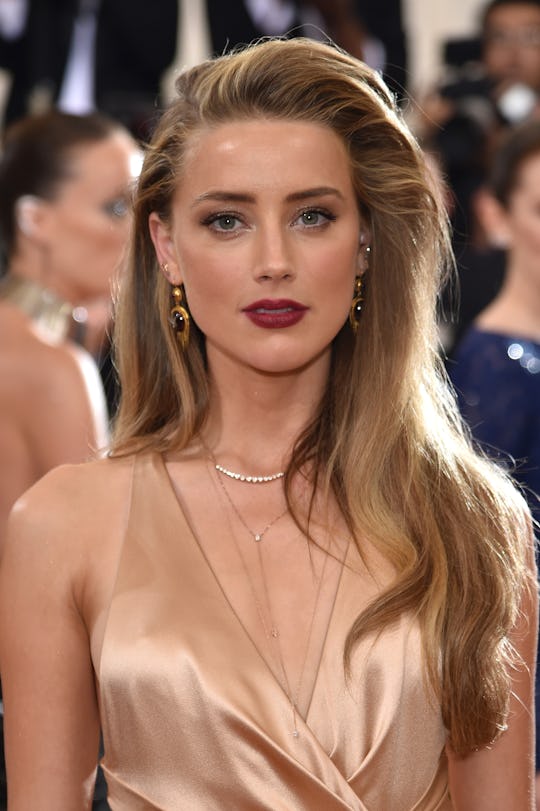 Dimitrios Kambouris/Getty Images Entertainment/Getty Images
Why You Shouldn't Investigate Whether Amber Heard Is Lying
It's been just over a week since Amber Heard filed for divorce from Johnny Depp, and, in that time, the news has been a roller coaster of gossip, speculation, and blame. While some fans initially expressed outrage at what they felt was callous timing on the part of Heard (Depp's mother, Betty Sue Palmer, died just days before Heard filed for divorce), that outrage was soon turned back on Depp when Heard filed a restraining order alleging domestic violence. Depp's representative's have not responded to Romper's request for comment. Some fans are hoping that the allegations are untrue, but the public shouldn't investigate whether Amber Heard is lying, because honestly, it's none of our business.
The Internet is a powerful tool, sometimes too powerful. Between People and TMZ, there's no shortage of "evidence" in the case, and I use that term loosely. Amateur detectives have photos and documents at their fingertips that can be used to delve into Heard and Depp's marriage, prove or disprove alleged abuse, and confirm to fans what they think they already know. But the truth is, fans don't know anything. Fans don't know these people. The public doesn't know if he assaulted her, if she's a liar, or whether it's actually a little of both. And, in reality, the public doesn't need to know.
Let's not forget what happens when a bunch of novice investigators try to solve a mystery. In 2012, Ryan Lanza, the brother of Adam, was mistakenly identified as the perpetrator of the Sandy Hook massacre and was besieged with harassment on Facebook. In 2013, Reddit users accused missing Brown University student Sunil Tripathi of being responsible for the Boston Marathon bombing, and the Tripathi family was relentlessly hounded by the media until the Tsarnaev brothers were identified (Sunil's body was discovered a week later; he'd died by suicide a month prior). Sure, those are extreme examples, but people can get just as worked up when they're nosing around a celebrity marriage. Look no further than Ava and Tallulah Dash, who have been subjected to Instagram harassment by crazed Beyoncé fans who believe the girls' mother, Rachel Roy, had an affair with Jay Z.
The world is currently sorting itself into two camps: those who think Heard is a gold digging liar, and those who think Depp is an abusive alcoholic. At least half of them are most likely dead wrong. Only two people know the truth. Just because those two people are famous doesn't make it anyone else's business, and it certainly doesn't give us the right to question Heard's account any more than we would a non-famous woman who accused a non-famous man of domestic violence. Publicly accusing her of lying because we just can't imagine Captain Jack Sparrow as an alleged wife beater sets a terrible precedent that could make other women less likely to seek help if they're abused.
We may never know what happened during Heard and Depp's marriage, but we do know that they're going through a divorce now, which is undoubtedly trying for both of them, and the last thing they need is to be put under a microscope. It's the responsibility of the justice system to investigate whether any abuse occurred. It's the responsibility of the public to stay out of it.