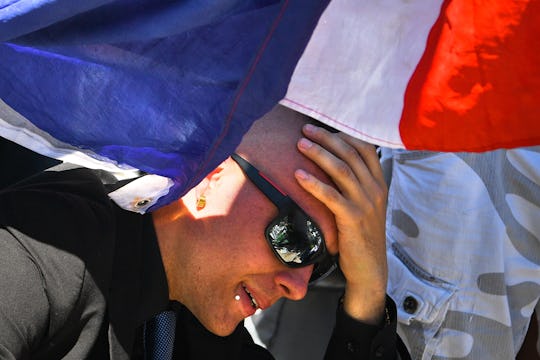 David Ramos/Getty Images News/Getty Images
Why You Shouldn't Share Graphic Victims Photos From The France Crash
For decades, news organizations had nearly complete control over the most disturbing images to emerge from violent incidents. If a photograph didn't make it onto the pages of a newspaper or into a 6 o'clock broadcast, few people would see it; their choices almost exclusively determined the audience's content. Now, there are no gatekeepers: if graphic footage or a distressing photo makes it onto the internet anywhere in the world, it is often accessible by millions. Though social media empowers individuals to tell their own stories, it also provides them unprecedented power to tell the stories of others. As the global community reels following terrorism in Nice, it's critical to consider why you shouldn't share graphic victims photos from the France attack.
On Thursday night, a man drove a truck into a crowd of people celebrating Bastille Day in Nice, France; according to The New York Times, the death toll currently stands at 84. Though police killed the truck's driver, the suffering continued: NBC News reported Friday that 50 injured in Nice are in critical condition. French President Francois Hollande announced that the country would observe three days of mourning, and he plans to extend the state of emergency in place since November.
Given the number of witnesses, there is extensive photographic documentation of the attack in Nice and its aftermath; CNN showed video of the attack itself on air, eventually deciding to change it from color to black-and-white footage and convert it from video into still photographs. Unfortunately, gruesome images are already circulating on the internet. Just as news organizations determine what to print or show on air, now private citizens determine how to exercise discretion in what they post. The problem is that no ethical standard exists on the web. Instead of consulting a team of producers and lawyers as a reporter might in a newsroom, someone sitting at their computer can distribute content with a click.
When reporting on a tragedy, what's appropriate to post? Now, even professionals are working to answer that question. Civilians in Damascus suffered horrific injury from sarin gas during a 2013 attack that killed over 1,400 people, according to CBS News. 60 Minutes chose to air footage of the horrific event in August 2015. The decision was so controversial that correspondent Scott Pelley offered justification for the choice in an online video:
If you don't see it, I don't believe the impact truly hits you. Even though people will be disturbed by what they see, it has to be seen.
Though atrocity captured on camera can be used for humanitarian purposes, as Pelley argued, offering exposure to that level of violence is generally the exception to the rule. In the same month, August 2015, two journalists working for WDBJ-TV in Virginia were killed on live television; after the incident, CNN asked experts what they thought about networks airing footage of the shooting. CNN national security analyst Juliette Kayyem argued that an on-air murder in Virginia is not much different than a televised ISIS murder. From her perspective, showing footage of any attack effectively helps the attacker meet their objective:
Simply, terrorist organizations use social media and video to show beheadings and other murders, and news agencies rightfully do not air these because they provide no value, they are gruesome, and most importantly, they give the terrorists what they want: a sense of fame, a chance to recruit and a platform that wouldn't otherwise be available.
There is little doubt that footage and photos from the terrorist attack in Nice will be preserved on the internet, but individuals have the power to prevent the transformation of reporting into propaganda. Telling and preserving the stories of those killed and injured in France honors their lives; sharing pictures and video of their murder has the potential to hurt their loved ones and play into terrorists' goal of spreading fear.