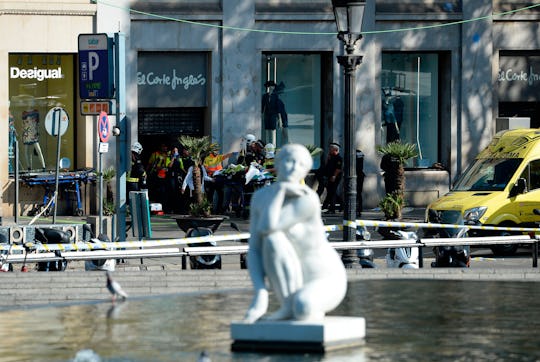 JOSEP LAGO/AFP/Getty Images
Why You Shouldn't Share Videos Of The Barcelona Van Crash
In addition to what has already been a terrible and upsetting week, Spanish media reported Thursday afternoon an incident in the Las Ramblas area of Barcelona where a van drove into a crowd of people, causing multiple injuries. A short scroll through Twitter will give you more than enough details — people are actually sharing graphic videos and photos of the dead and injured. It should go without saying, but here's why you shouldn't share videos of the Barcelona van crash — it's unnecessary and could very well end up causing additional heartache.
I mean, just think about the loved ones of the people who are involved in or died due to this tragic incident. (According to the Associated Press, local reports state that the death count is up to 13.) Their friends and family most likely haven't been notified of what's happened at this point in time, so can you imagine finding something like that out on Twitter? It wouldn't be right and could end up causing them additional suffering. These victims and their families are going through enough as it is, so having to see graphic footage of the van crash (and there's already a ton out there) isn't being respectful and doesn't actually benefit anyone.
But thankfully, there are some people speaking out on Twitter, requesting that those who have access to any video footage not to share due to the extra pain it will cause.
Some may see this as a way to get the word out about what's going on. But, in reality, posting videos is actually the opposite of helping, even if you have the best of intentions. Many of us can't even begin to imagine what these families are going through right now (if they're even aware of it at all yet), so putting that kind of gruesome content out into the world for all to see isn't a beneficial way to help make a difference.
In fact as one person astutely points out, it could actually end up giving information to the attackers themselves, who could also be using social media. Spain's El Pais newspaper is reporting that the two perpetrators involved in the crash are currently holed up in a bar. So the information you put out there could very well end up helping them or could in some way compromise the police investigation.
No matter how you look at it, sharing and posting videos of the Barcelona crash — which police are now calling a terror attack — simply isn't a good idea. So if you have posted or shared or uploaded any content that you yourself wouldn't want to see if it involved someone you love, please consider taking it down. These people and their families are already going through enough.