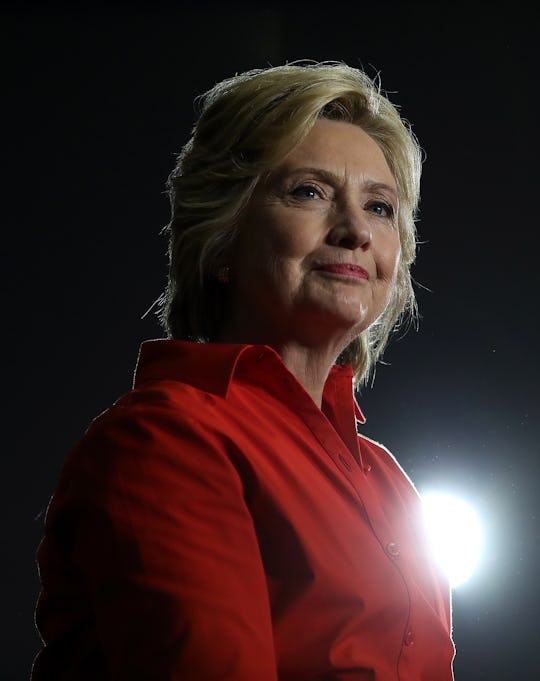 Justin Sullivan/Getty Images News/Getty Images
WikiLeaks Alleges That Hillary Clinton May Have Killed A DNC Staffer & It's Ridiculous
Julian Assange and his Wikileaks organization have shone the spotlight on a new conspiracy theory stating a young Democratic National Committee staffer, Seth Rich, was allegedly killed by Hillary Clinton. In an interview with a Dutch news program, Assange fueled the conspiracy theory further by implying that Rich was a whistleblower for Wikileaks and had helped with the recent DNC email leak. Wikileaks is now offering a $20,000 reward for information on Rich's murder. The murder of 27 year old Seth Rich is certainly a tragedy. However, Wikileaks' claim that Clinton allegedly killed Rich for political purposes is ridiculous.
Seth Rich was walking home in the early hours of the morning in Washington, D.C. last month when he was shot and killed in what local police believe to be a robbery gone wrong. His killer has not yet been apprehended. Conspiracy theorists have latched on to this senseless crime and believe that Rich was an FBI informant. According to the conspiracy theorists, Rich was on his way to a secret meeting with supposed FBI agents who were, in fact, a hit team allegedly organized by Hillary Clinton and sent to stop him from exposing DNC secrets. The theory has since been debunked, but it's still important for the public to that there is no evidence to support these accusations. Clinton's camp did not immediately respond to our request for comment.
Snopes, a website that attempts to break down internet rumors and conspiracy theories, has already completely debunked this theory on its site. Rich was indeed a DNC employee, however, he was 27 and had only been with the organization for two years. He worked in voter outreach, helping local citizens find their correct polling location. His position at the DNC makes him an unlikely candidate to be in possession of information that could harm Clinton or her campaign. There was a string of robberies in the area in which Rich was killed and police believe his murder was connected to the rise in neighborhood crime.
Rich was seemingly and tragically in the wrong place at the wrong time and the world lost a promising young life. Attempting to tie his death to a political conspiracy is shameful. Brad Bauman, a spokesperson for the Rich family, released a statement on the family's behalf, noting:
Some are attempting to politicize this horrible tragedy, and in their attempts to do so, are actually causing more harm than good and impeding on the ability for law enforcement to properly do their job. For the sake of finding Seth's killer, and for the sake of giving the family the space they need at this terrible time, they are asking for the public to refrain from pushing unproven and harmful theories about Seth's murder.
Roger Stone, longtime Donald Trump supporter and ultra-conservative pundit, has been a loud supporter of this conspiracy theory on Twitter. He stated in a speech to the Southwest Broward Republican Organization in Florida on Monday that he has also been communication with Assange. He informed the crowd he believes the next Wikileaks exposé will "pertain to the Clinton Foundation."
In a statement to NBC, Wikileaks downplayed Assange's suggestion that Rich was a whistleblower for the organization, stating that it "treat[s] threats toward any suspected source of WikiLeaks with extreme gravity. This should not be taken to imply that Seth Rich was a source to WikiLeaks or to imply that that his murder is connected to our publications."
It's wrong to drag a grieving family through this conspiratorial mess mess for political gain. Rich was a bright, up and coming DNC staffer and his passing was devastating. There's no need to make his death a pawn in a game of presidential chess, especially since there's no factual evidence to back up this ridiculous conspiracy theory. Let's allow his family the time and space they need to heal.