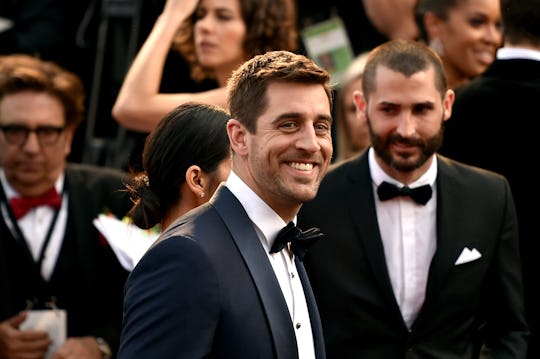 Mike Windle/Getty Images Entertainment/Getty Images
Will Aaron Rodgers Be On 'The Bachelorette'? Hometown Visits Are Coming
It may be hard to believe, but we've already had two international trips on The Bachelorette, and are past the halfway point, which means that hometown visits are right around the corner. Jordan Rodgers seems to be a strong frontrunner who isn't going anywhere before the final four guys get to introduce JoJo to their families. So will Aaron Rodgers be on The Bachelorette, then, during hometowns? Very possibly not.
There have been some pretty big hints in the media surrounding this season of The Bachelorette alluding to the fact that Jordan and his brother do not have the closest relationship. Even though much has been made of "Aaron Rodgers' brother" being a contestant on the show (even within the show, with several football/sports-related dates clearly skewing to his appeal), Jordan recently did an interview in which he dodged questions about Aaron. While it's entirely possible that he's simply trying to get out of his brother's shadow — as the "failed former football player" younger sibling to the Green Bay Packers' golden boy quarterback — Jordan flat-out admitted that their relationship was "complicated."
"Um, we have a relationship," he told Katie Nolan on a recent installment of Garbage Time Podcast. "You know, it's complicated. I'll say that."
She pressed asking if he was a Packers fan and he said yes, but only because one of his best friends also played for them. Finally, she asked if he thought Aaron was watching the show at home and Jordan weakly replied, "I'm sure everybody watches the show, so yeah. I think so, yeah."
His responses seemed pretty chilly, which may mean that Aaron won't make an appearance on hometowns. It's possible that Aaron is disapproving of Jordan's choice to go on The Bachelorette, or they may simply have a complicated relationship just because of their vastly differing experiences working in the same, high-profile field as siblings. Either way, there's a clue in the sneak peek for an upcoming episode that Jordan may be getting ready to tell JoJo he doesn't have the best relationship with his brother, possibly as a means of explaining to her why she won't be getting to meet him during her visit.
"I'm just going to tell her everything she needs to know," he says in a clip. Admittedly, this might be a reference to his alleged cheating or the less than stellar ways he's acted in previous relationships. But it may also be the moment we learn about what it's really like to be Aaron Rodger's brother.