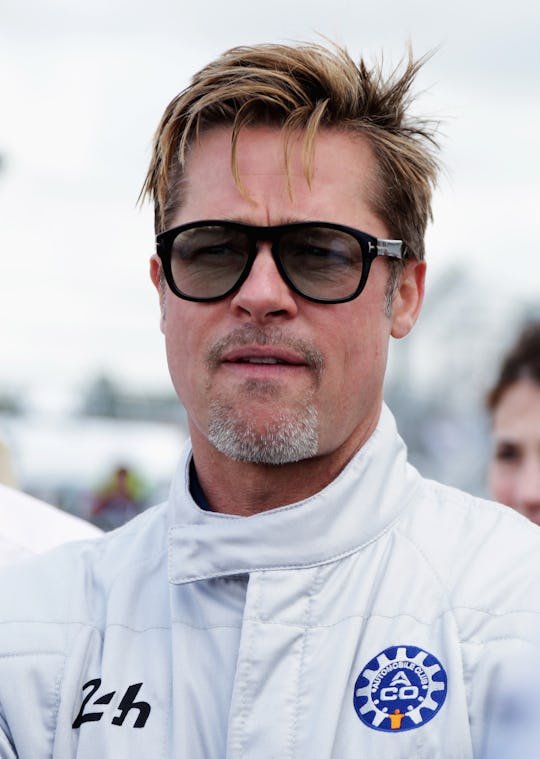 Ker Robertson/Getty Images Sport/Getty Images
Will Abuse Allegations Against Brad Pitt Help Angelina Jolie Get Custody? It's Unclear
According to reports from TMZ and PEOPLE, actor Brad Pitt is under investigation for child abuse by the Los Angeles Police Department and L.A. County Department of Children and Family Services. The probe stems from an anonymous report of a Sept. 14 incident on a private plane, during which Pitt allegedly became verbally and physically abusive with one of his children after the aircraft landed around 8 p.m. Angelina Jolie, who filed for divorce from Pitt Monday, was reportedly on board, along with at least some of the couple's other children. Whether the alleged abuse will help Jolie win custody is unclear. Romper has reached out to Pitt's representative for comment and has not yet received a response, but LAPD Officer Jenny Houser denied claims that the department is investigating the accusations:
The abuse child unit with LAPD has no open investigation on Brad Pitt or Angelina Jolie.
Jolie listed Sept. 15 — the day following the alleged abuse — as the couple's date of separation when she filed for divorce Monday, citing irreconcilable differences and requesting sole physical custody of their six children: Maddox Jolie-Pitt, 15; Pax Jolie-Pitt, 12; Zahara Jolie-Pitt, 11; Shiloh Jolie-Pitt, 10; and twins Knox Jolie-Pitt and Vivienne Jolie-Pitt, 8.
The demise of Hollywood's golden couple shocked the world this week, with #Brangelina trending worldwide on Twitter after TMZ broke the news about Jolie's divorce filing. The couple married in August 2014, but had been together since early 2005 after Pitt's separation and divorce from first wife Jennifer Aniston. They both denied any infidelity on Pitt's part, but later admitted they "fell in love" during filming of Mr. and Mrs. Smith in 2004, while Pitt and Aniston were still together. Jolie first went public with their relationship when she confirmed to PEOPLE in January 2006 that she was pregnant with Pitt's child.
The child-abuse allegations claim Pitt, who has previously spoken about his long history of drinking and drug use, was drunk at the time of the incident. After the plane landed, a witness said he "continued his rant on the tarmac" and did not return to the family home that evening. Neither Pitt nor Jolie have commented on the investigation, but a "source close to the actor" told PEOPLE:
He takes the matter very seriously and says he did not commit any abuse of his children. It's unfortunate that people involved are continuing to present him in the worst possible light.
Jolie's divorce filing asks for sole physical custody of the couple's children, with joint legal custody and visitation for Pitt. Sole physical custody means the kids would live with her full-time; however, California law favors joint physical and legal custody when the parents agree to it. Further, judges can take into account the wishes of children who are 14 years of age or older, meaning 15-year-old Maddox could potentially have a say in which parent he lives with. Regardless of how the custody matter shakes out, it's clear the parents are focused on the well-being of their children. Pitt released the following statement to PEOPLE on Tuesday:
I am very saddened by this, but what matters most now is the well-being of our kids. I kindly ask the press to give them the space they deserve during this challenging time.