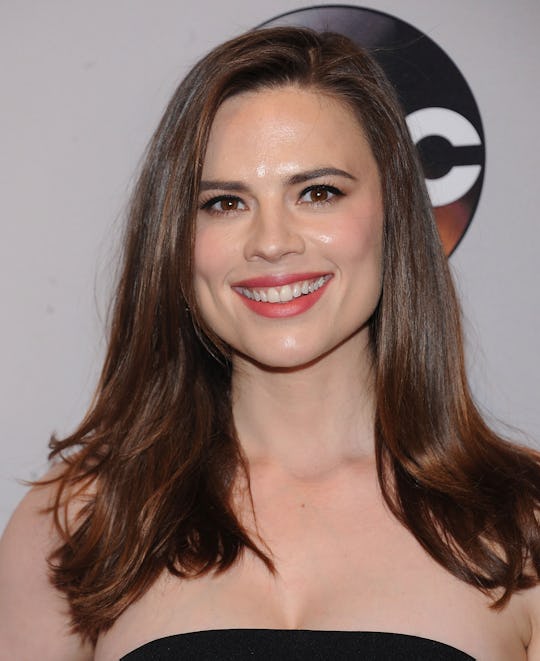 Brad Barket/Getty Images Entertainment/Getty Images
Will 'Agent Carter' Be Revived? Hayley Atwell Certainly Hopes So
Fans of the Marvel cinematic universe collectively cried when Agent Carter got cancelled by ABC earlier in the month of May. The show, which aired for two seasons, was loved by Marvel fans and non-Marvel fans alike. But it might not be time to say goodbye just yet. After one of the show's leads spoke out this week, the rumor mill began churning, with hard fans of the show wondering: Will Agent Carter be revived?
According to Peggy Carter herself — or at least, the actress who played her, Hayley Atwell — the answer is a resounding... maybe. But that didn't stop Atwell from hoping out loud that a revival of the show would eventually happen somewhere down the line. According to ScreenRant, at a MegaCon panel in Orlando, Florida this past weekend, Atwell said that she is willing to do "whatever it takes" to see the show live again. That is major. And while Atwell doesn't necessarily have any say as to whether or not the show will get revived, it is a step.
Having Atwell on board for a possible move to another network or website means that she is willing to see it come back and is more than happy to finish her character's story (even if Atwell is currently starring in another ABC drama, Conviction). Atwell also reportedly said she is willing to "shoot on the weekends" — which means she really must want the show to come back.
While Atwell's comments are by no means a confirmation of Agent Carter's revivial, it is a fair start. Even fans of the show are so desperate to keep the show afloat that they've taken to creating their own online petition at Change.org. The petition calls for studio executives at ABC, Disney, and Netflix to save Agent Carter, and well — bring the show to Netflix.
Currently, the petition has more than 116,000 signatures, which is crazy, and proves that people are not yet willing to see the beloved Marvel TV spectacle go so easily. Studio executives should definitely be keeping an eye on that chatter, if nothing else.
Dominic Cooper, who played Howard Stark on the show also said he was on board with the idea of the show moving over to a streaming site, according to Comic Book Resources. During a panel at MCM London Comic Con this past weekend, Cooper noted how the support from fans for a revival meant a lot to the Agent Carter cast. "I know James and Haley, the fact that people have gotten behind it and want to see it return means a huge amount to them," Cooper reportedly said.
It is not like fans petitioning for a show to come back hasn't worked in the past. In 2015, after FOX cancelled The Mindy Project, Hulu picked up the show for a fourth season with 26 new episodes. And in 2009, when NBC cop drama Southland got cancelled, TNT picked up the show and continued to air it for four more seasons. Therefore, the revival of a popular and recently cancelled show like Agent Carter might seem so far-fetched.
Hopefully, with a strong backing from the cancelled show's cast and a very committed backing from fans, Agent Carter will be picked up by another network or another streaming site. Fans can only cross their fingers and hope for the best.