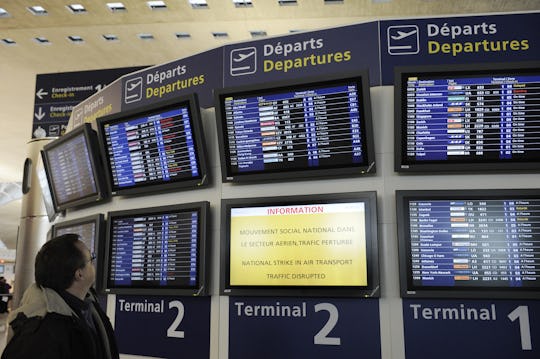 Will Airlines Refund Tickets To Countries With Zika? Pregnant Women Are Canceling Their Trips
The Zika virus has now spread to two dozen countries in the Caribbean, Central America, and South America, and the Centers for Disease Control and Prevention is warning pregnant women to stay away from affected areas. Babies born to women who have contracted the virus are believed to be at risk for microcephaly, a condition marked by an abnormally small head and an underdeveloped brain. So what happens if you've already scheduled your February vacation to Brazil, Mexico, or the U.S. Virgin Islands? Are airlines offering refunds on tickets to Zika-affected countries? Believe it or not, yes! At least, some of them are.
According to CNN, British Airways will allow pregnant customers scheduled to fly to Sao Paulo, Rio de Janeiro, Mexico City, or Cancun to delay their trip or choose an alternative destination. American Airlines is offering pregnant passengers flying to El Salvador, Honduras, Panama, and Guatemala a full refund if they provide a doctor's note, and United Airlines is going the extra mile and allowing any customers traveling to affected countries a chance to reschedule or receive a full refund — pregnant or not. NBC News reported that Latin America's largest airline, Grupo LATAM, won't charge cancellation or flight-change fees for pregnant women. Currently, Delta, JetBlue, and Southwest do not have any Zika-related policies in place, according to ABC News.
Outbreaks of the Zika virus have been prevalent in Brazil since May of 2015, according to the CDC. No cases have been contracted in the United States, but some U.S. citizens have contracted the virus abroad and returned while infected. The virus is spread by the bite of the Aedes aegypti mosquito, the same bug responsible for spreading dengue and chikungunya viruses. The CDC cautions that there could be a potential local outbreak in areas where Aedes aegypti lives. The American Journal of Tropical Medicine and Hygiene reported finding Aedes aegypti as far north as Washington, D.C. There have been two unconfirmed reports of the virus possibly being contracted via blood transfusion and sexual contact. There is no vaccine for Zika. To prevent infection, the CDC recommended using an insect repellent containing DEET, picaridin, or IR3535, and treating clothing with permethrin.
Travelers who aren't pregnant or planning on becoming pregnant don't actually have much to fear from Zika, however. Only one in five people infected with the virus actually develop symptoms, and they're generally mild, including fever, rash, joint pain, conjunctivitis, muscle pain, and headache. Symptoms usually persist for about a week. Nothing one would willingly sign up for, sure, but when weighed against the possible money lost by cancelling a vacation last minute, it's livable.
Images: Bertrand Guay/AFP/Getty Images; James Willamor, U.S. Department of Agriculture/Flickr