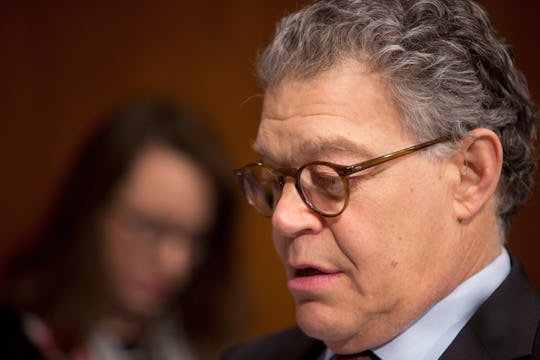 Tasos Katopodis/Getty Images News/Getty Images
Al Franken Faces More Accusations Of Harassment, Leading To Calls For His Resignation
After a seventh woman accused Minnesota Sen. Al Franken of inappropriate sexual conduct on Wednesday, several Democratic senators held a press conference calling for him to step down. He's denied the accusation, but with so much pressure from his colleagues, will Al Franken resign? According to the Washington Post, Franken's office said that he'll make an announcement on Thursday, but declined to elaborate. Franken did not immediately respond to Romper's request for comment.
"Enough is enough," said New York Sen. Kirsten Gillibrand at the conference. "We need to draw a line in the sand and say none of it is okay, none of it is acceptable. We as elected leaders should absolutely be held to a higher standard, not a lower standard, and we should fundamentally be valuing women. That is where this debate has to go." Also calling for Franken's resignation are Democratic Sens. Claire McCaskill of Missouri, Tammy Baldwin of Wisconsin, Debbie Stabenow of Michigan, Heidi Heitkamp of North Dakota, Maria Cantwell of Washington, Dianne Feinstein of California, Patty Murray of Washington, Joe Donnelly of Indiana, Bob Casey of Pennsylvania, Sherrod Brown of Ohio, and Dick Durbin of Illinois.
The outpouring of senators urging Franken to leave the Senate was spurred by a report from Politico alleging that Franken tried to forcibly kiss a former Democratic congressional aide following a radio show taping in 2006, before he began serving in the Senate. The woman, who wishes to remain anonymous, said that after she rebuffed Franken, he told her, "It's my right as an entertainer," a comment that's strikingly similar to President Donald Trump's now-famous line, "When you're a star, they let you do it. You can do anything." In a statement to Politico, Franken responded to the accusation:
This allegation is categorically not true and the idea that I would claim this as my right as an entertainer is preposterous. I look forward to fully cooperating with the ongoing ethics committee investigation.
Following the publication of the allegations, and the subsequent news conference, several more Democratic senators spoke out against Franken. "I am deeply disappointed by Senator Franken's behavior," began a statement posted on Illinois Sen. Tammy Duckworth's website. "He must step aside." Vermont Sen. Patrick Leahy issued a similar statement, saying that "Senator Franken's situation has become untenable," and he "has to step aside." New Jersey Sen. Cory Booker told reporters on Wednesday afternoon, "I think it's time that [Franken] steps down, and this is an opportunity for him to speak to the larger issues that are clearly being evidenced, not only for his life, but also what's going on in American culture." Booker said that that he reached out to Franken via text message, according to the North Jersey Record, but hadn't received a response.
Several more Democrats have tweeted similar sentiments, but the latest alleged victim told Politico that's not why she shared her story. "His resignation is not the top of the list there," she said. "That's not my point." Rather, her goal is to convince Franken to admit to his alleged wrongdoing. After the first accusation was made public, Franken said he was "embarrassed and ashamed," according to CNN, but also claimed not to remember groping a woman, even after photographic evidence was produced, and said that it was "not something I would intentionally do." For accuser number seven, that's not good enough. "I don't want to be in the position of deciding whether to tell this story," she told Politico, "but I'm not the person who put me in that position. He did that. I think for this moment in time, to lead to meaningful change, there has to be more than 'I'm ashamed but I remember things differently.'"