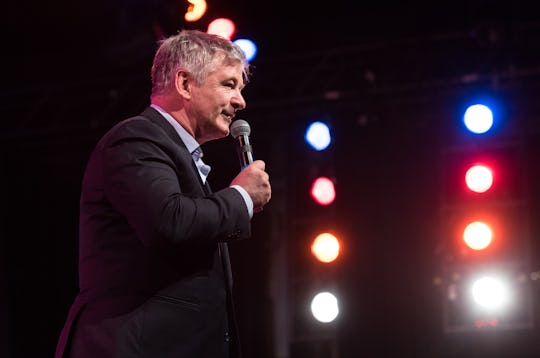 Noam Galai/Getty Images Entertainment/Getty Images
Will Alec Baldwin Attend The Correspondents' Dinner?
On Saturday, journalists and celebrities from around the country will come together once again for the annual White House Correspondents' Dinner. As always, this proverbial who's who of entertainment and news will pay homage to our First Amendment rights over plates of expensive delicacies. Although presidents traditionally join in on the festivities, President Donald Trump has decided to skip this year's dinner. Will Alec Baldwin attend the White House Correspondents' Dinner instead? No one knows for certain, but could you imagine if he showed up as Trump? That would be pure gold — or orange, depending on your take.
Baldwin has impersonated Trump on Saturday Night Live for more than year, mocking everything from the president's press conferences to his defense of former Fox News host Bill O'Reilly, who was ousted from his post last week amid reports of sexual harassment. (O'Reilly's representative has not responded to Romper's request for comment.) His orange-faced caricature has been a hit among millions around the world, except for the president himself, who has had a few Twitter meltdowns over Baldwin's impersonation. According to US Magazine, Trump tweeted back in December that Baldwin's portrayal of him is "unwatchable," "totally biased," and "not funny." Of course, those same exact words could be used to describe Trump's presidency.
According to NBC News, Trump announced that he would not attend the Correspondents' Dinner on Twitter back in February. He is the first president to miss the annual event in more than three decades, NBC News reported. His decision to skip the White House Correspondents' Dinner seems apropos for the president; Trump has openly flouted tradition since announcing his candidacy, and this choice is no different. But it does mean that this year's host, Daily Show correspondent and comic Hasan Minhaj, won't be able to roast the president in person. Darn.
Trump's absence, though, will make the White House Correspondents' Association's fundraiser all the more poignant. As with every year, Saturday's dinner will celebrate the First Amendment while raising money for scholarships and awards honoring aspiring and accomplished journalists. But the event will take place under a presidency that has repeatedly disregarded, disparaged, and attacked the media in public for reporting the truth. Trump's assault on the free press is as dangerous as it is dishonest.
Baldwin told Extra back in March that he may put an end to his Trump impression on Saturday Night Live. It would be a huge loss for the late-night show; Baldwin's Trump portrayal is no doubt at the core of SNL's ratings surge in the last few months. ‌But if Baldwin does plan to hang up his Trump hat, one last show as the president at the Correspondents' Dinner would be a great way to end the ride.
Now all we need is Melissa McCarthy to show up as White House Press Secretary Sean Spicer. Who can make that happen?