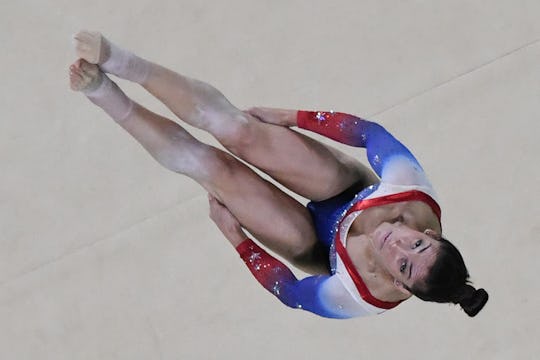 LAURENT KALFALA/AFP/Getty Images
Will Aly Raisman Go To The 2020 Tokyo Olympics? Never Say Never
The U.S. Women's Gymnastic team is pretty hardcore. The Final Five killed it both as a team and as individuals in all of their events and now that the Olympics are coming to an end, it's time to start thinking about the next games and which members of the crew will be able to return. Simone Biles and Laurie Hernandez are good bets, but will Aly Raisman go to the 2020 Tokyo Olympics? It really depends on how things play out over the next few years.
First of all, for the Tokyo Summer Games, the gymnastics teams are only allowed to have four, not five, members. So the chances of getting a spot on the team are a little slimmer.
Raisman competed in the 2012 London Summer Games, so Tokyo in 2020 would be three in a row, which is kind of unusual. Especially, and I hate to say it, because of her age. Sure, Russia had a 41-year old gymnast competing in her seventh Olympics, but that's really uncommon in the sport.
Raisman is 22 right now, so by Tokyo she'll be 26. She can keep training and decide she wants to try to qualify for the 2020 team, but if she made it she would be one of the oldest women to compete for the U.S. Women's Gymnastics Team. But Raisman likes breaking records, apparently.
Before Rio, Raisman took some time to get back on the mat and it wasn't easy. After winning so big in London, she told NBC that she was afraid she wouldn't be able to do it again but also needed to be able to do it again. It's complicated when one competes at that sort of level.
"I think it's been just as stressful for my parents as it is for me," Raisman said. "They're there every single day when I get home from workout and I'm exhausted and don't feel good... my mom's protective and my dad's the same; they just want the best for me and they get very nervous," she said. It's not just about going for the gold, being a champion like Raisman means wondering all the time if the gold is worth all of the sacrifices an athlete makes to train for the Olympics.
Many assume that Raisman won't continue to train for the next Olympics, which is an even crazier thought than an "old" gymnast competing on the mat. Her record is pretty amazing though as it stands — with six medals, maybe it's better to get out while you're ahead. But it would be fun to see how her and Biles are doing in four years.