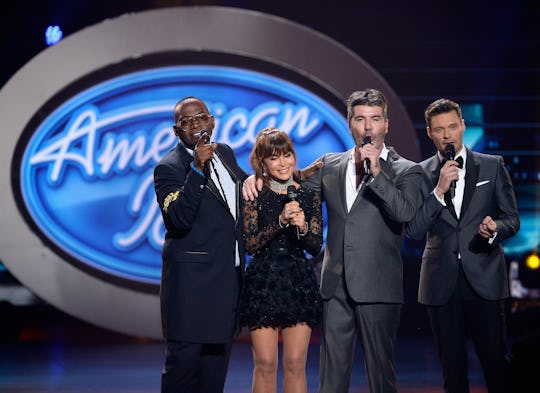 Kevork Djansezian/Getty Images Entertainment/Getty Images
Will 'American Idol' Come Back? This Probably Wasn't The End
Ryan Seacrest you fickle fella. I can barely keep up with you and your games. After a season of farewells, you go ahead — in the final seconds of the show — and tease the fact that American Idol might return, despite the "farewell season" I just sat (read: cried) through. Well played my once-frosted-tips friend. If you tuned into the American Idol finale and watched until Ryan Seacrest said "goodbye... for now," you might be wondering if this really was the final season of American Idol, or if this was just one really long dream that you'll wake up from eventually.
Honestly, it might be both. On the finale, Seacrest said his goodbyes — for what appeared to be the final time — but threw in a "for now" for good measure. First of all, how dare he. I just cried for two hours and six minutes because American Idol — an American classic — was ending. And then I find out that it might just be one big "gotcha" from Ryan Seacrest in the final seconds? At least let Brian Dunkleman reveal the news, since no one really cares if they hold a grudge against The Dunk.
Upon further investigation, it appears that this isn't the final American Idol season after all. Creator Simon Fuller gave quite the interesting interview to The Hollywood Reporter recently that basically confirms that Idol is just taking a break before coming back bigger, badder, and better than ever (if that makes sense?). Here's what he had to say about "the next generation" of Idol.
So the next generation of Idol will be a lot more interactive, a lot more immersive. For me the most exciting thing is we can really now dive deep with all the new technology that's coming. My head is exploding with opportunities. The next generation of Idol — and Idol will certainly be coming back for sure — will have a youthful glow and it will be pioneering again, just as it was when we first began.
OK, so that sounds like a pretty done deal to me. I just need the when and the where, and I'm a happy — slightly less emotional — camper who won't hold too many grudges against Seacrest for pulling the wool over our eyes this entire season.