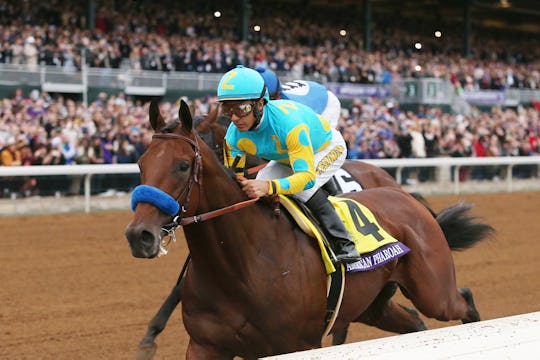 Michael Reaves/Getty Images Sport/Getty Images
Will American Pharoah Be At The Kentucky Derby This Year? He's A Little Busy
If the Super Bowl is always about the ads and the halftime shows, the Kentucky Derby is all about the hats and superstar horses. Last year, America was wowed when American Pharoah, a young, scrappy-tailed colt, was the first horse to win the Triple Crown since 1978. But will American Pharoah be at the Kentucky Derby this year for more?
Unfortunately for the little guy's fans, it seems he's happily retired at Coolmore Farms in Versailles, Kentucky and living the "stud life," which means he's living on a breeding farm, eating grass, and straight up chilling.
"He could breed 2-3 times per day during breeding season," Scott Calder, who works in sales & marketing at Coolmore Farms, told CNBC. When he isn't breeding, Pharoah's eating grass and greeting tour groups at the farm. Apparently, he's even gained a bunch of weight. According to CNBC, the 1,340-pound horse has gained 170 pounds since his retirement. If that's not the good life, then what is?
The 4-year old horse's racing manager, Justin Zayat, told the network that the American Pharoah is loving his new life. "He looks more like a relaxed horse," Zayat said. Not everyone is so thrilled about his newly minted stud life, though. Apparently, the Triple Crown winner's loved ones really miss him since moving him from California to Kentucky to get it on.
Horse trainer Bob Baffert, who runs the stables in California where American Pharoah spent his pre-retirement days, told Sports Illustrated that his wife still isn't over the move. "She loves that horse," he said. "But at some point you have to turn the page."
But don't feel too bad for American Pharoah just yet. Apparently, not only does he get to eat whatever he wants, he's making a boatload of money for breeding. According to Sports Illustrated's Tim Layden, the Derby's star makes $200,000 per breeding appointment. So far, Pharoah has mated with a 100 mares and is expected to mate with 75 more by the time the end of June, and the end of breeding season, rolls around. Talk about a retirement plan.
While Pharoah beefs up for his next big date, there's another big name about to take his place this year at the Derby. This year, a horse named Nyquist, jockeyed by Mario Gutierrez, is slated to be the big winner at Churchill Downs. Apparently, if you're into this sort of thing, Nyquist has a better record going into the weekend than Pharoah did when he made everyone fall in love with him last year. Nyquist hasn't lost in seven races and anyone who has money on the Derby this weekend would do well to bet on him.
So no, although American Pharoah won't be running the races this weekend, he'll be getting busy all the same for sure. Just... do they have to call it "stud life?"