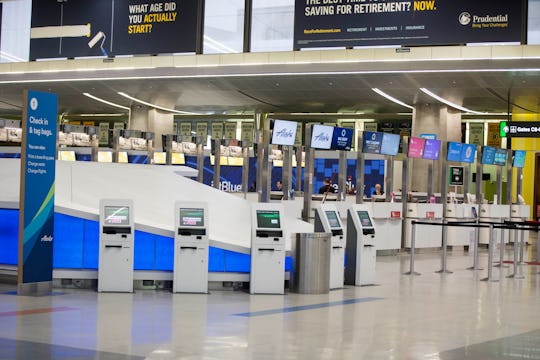 Scott Eisen/Getty Images News/Getty Images
Will Americans Need Visas To Visit Europe?
The European Parliament is playing an all-or-nothing game with the United States: On Thursday, European Union lawmakers voted to end Americans' visa waiver unless the United States grants privileged visa status to all 28 members of the European Union, according to The Washington Post. But does the vote mean Americans will need visas to visit Europe now?
The United States currently does not extend visa-free travel to passport holders from Bulgaria, Croatia, Cyprus, Poland, and Romania, the only members of the European Union whose citizens must seek advance visas for trips to the United States, according to The Independent. The vote on Thursday was the first move the European Union has taken to remedying that situation, although the European Commission noted three years ago that the United States wasn't fulfilling its portion of the reciprocity agreement between itself and the European Union.
According to The Independent, the European Commission is legally obligated to move to suspend Americans' visa-free travel, but that doesn't mean Americans will lose their visa privileges quite yet. The European Parliament or the Council of the European Union could still object to the European Commission's attempt to enforce a "delegated act" (the move which would end visa waivers for Americans).
According to Reuters, the European Commission would rather resolve the issue diplomatically, and the issue will probably arise at a ministerial meeting scheduled between the European Union and the United States on June 15. It's in the European Union's best interest to resolve the issue diplomatically rather than press forward with visa restrictions, since limiting Americans' access would likely cause tourism to take a heavy hit — a costly move for the European Union.
The European Parliament urged the Commission to instate visa restrictions within the next two months, but according to Reuters, lawmakers can't actually ensure that European Union executives will adopt those guidelines. Executives already allowed a deadline for a visa reciprocity solution to pass approximately a year ago without coming to a resolution.
Australia, Japan, Brunei, and Canada had also failed to uphold parts of their reciprocity agreements with the European Union, but the four nations have either resolved their issues or are currently working to lift any visa restrictions on European travellers.
Whether the United States agrees to fulfill its end of the visa reciprocity agreement or not remains to be seen. If the Trump Administration decides not to agree to the European Union's demands, the European Union will be forced to decide whether it's economically worth it to ask Americans to apply for visas in advance or whether it's easier to continue to ignore deadlines for a resolution.