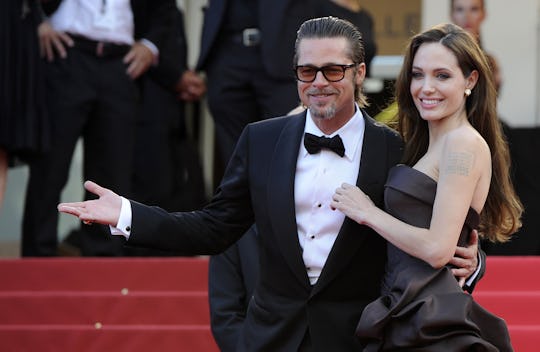 ANNE-CHRISTINE POUJOULAT/AFP/Getty Images
Will Angelina Jolie & Brad Pitt's Kids Have To Appear In Court? Pitt Hired An Attorney
This week has been a wild ride for fans of Angelina Jolie and Brad Pitt, one of Hollywood's most beloved celebrity couples. But this divorce isn't going to be as hard on the fans as it will be for Jolie and Pitt's six kids. As the details emerge, there is so much more the public has yet to learn and will learn once the custody agreements begin. During times like these, it is important to remember the privaxy and wellbeing of their six kids in such a public setting and in such a public battle. But will Angelina Jolie and Brad Pitt's kids have to appear in court or will they be left out of it all?
On Friday, according to USA Today, Pitt hired a family law attorney, Lance Spiegel, to represent him in court and take the next step in divorce proceedings from Angelina Jolie. Spiegel is a high profile divorce attorney and according to USA Today, has represented Charlie Sheen, Michael Jackson, Heather Locklear, and Eva Longoria during divorce proceedings. Jolie is seeking full physical custody of the couple's six children but Pitt hiring an attorney could mean that he might want otherwise. Romper reached out to Jolie and Pitt's representatives for comment. Because of this, would any of the kids have to go to court?
Not likely. According to the Los Angeles Times, the court has to act in the best interest of the kids to decide who gets that sole custody or if it should be split. While the court will need evidence to be convinced to grant Jolie sole custody of the kids, this evidence will more than likely not be presented in the form of the Jolie-Pitt clan telling the judge their own experiences with either parent. According to the Los Angeles Times, at 15-years-old Maddox, the oldest child, "has the right to express his custody preference in court" and if it is reasonable, the judge must consider it. According to CBS News, in the state of California, "judges generally consider the opinion of anyone 14 years or older of any parent they want to live with." Therefore, Maddox's opinion can be valid in the court. But even then, according to CBS News, courts encourage parents to work out custody agreements. California family attorney Stacy Phillips told the Los Angeles Times that "putting a child up in court" is scary and no child should have to do that. Some judges will even discourage that.
While the divorce will continue to be in the headlines for weeks to come, it is important to remember that the kids have to read the headlines and alleged claims about each parent, too. Luckily, the kids will more than likely not have to appear in court and can stay out of the battle.