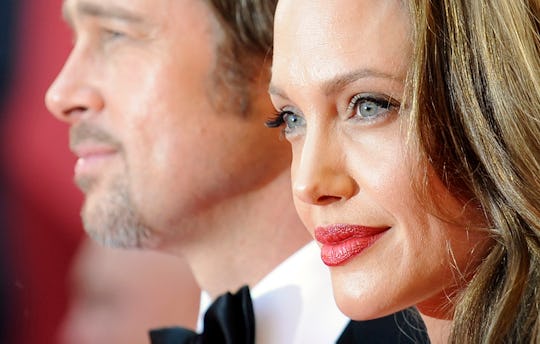 ANNE-CHRISTINE POUJOULAT/AFP/Getty Images
Will Angelina Jolie Get Sole Custody Of The Kids? She's Filing For Physical Custody
The power couple of the century, Angelina Jolie and Brad Pitt, are finally calling it quits — and, according to TMZ, Jolie isn't asking for any spousal support but does want physical custody of their six children. Will Jolie get sole custody of the kids, however? That's most likely up to a judge to decide, and will depend on both Pitt's parenting and his desire to keep joint custody of the children.
The pair, who married in 2014 but have been dating since 2004, are parents to six children (three adopted and three biological). According to TMZ, Jolie is seeking physical custody of all six children and only wants to share joint legal custody with Pitt. If that's the case — and Jolie were to win custody over the children — Pitt would only have visitation rights with his kids.
According to TMZ, Jolie's choice to file for custody was reportedly due to disagreements over Pitt's parenting methods. Romper has reached out to both Jolie and Pitt's representatives for comment, but has yet to hear back.
In a statement to Reuters, Jolie's attorney, Robert Offer, said:
This decision was made for the health of the family. She will not be commenting, and asks that the family be given its privacy at this time.
In a statement to People, Pitt said:
I am very saddened by this, but what matters most now is the well being of our kids. I kindly ask the press to give them the space they deserve during this challenging time.
Jolie and Pitt's children include Maddox, 15, Pax, 12, Zahara 11, Shiloh, 10, and Knox and Vivienne, both 8. While Jolie adopted Maddox before meeting Pitt, Pitt later adopted Maddox as well, and the two actors currently share custody of all of their children.
Jolie and Pitt were married two years ago in Correns, France, in a secret ceremony at their Château Miraval countryside estate. According to Us Weekly, Jolie wore a white wedding dress adorned with their children's drawings, and the children were largely involved in the ceremony: Maddox and Pax accompanied Jolie down the aisle; Zahara and Vivienne showered the couple in flower petals; and Shiloh and Knox were their parents' ring bearers.
According to TMZ, Jolie listed the date of separation as Sept. 15, 2016. While rumors have surrounded Pitt and Jolie for years now, it intensified this past summer, with some reports claiming that the couple were going to adopt a seventh child, while other rumors suggested Jolie and Pitt's eventual divorce was imminent.
Many fans have expressed their disappointment online (I mean, does love even exist anymore?), and Jolie and Pitt will likely be under intense media scrutiny for the next little while. Hopefully, everyone can give the two actors and their six children the privacy they need as they go through this transition.