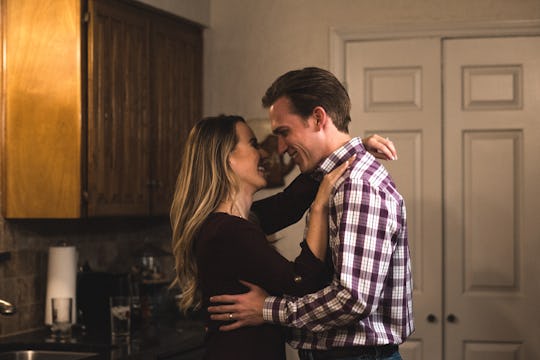 Valerie Chiang/Lifetime
The 'Married At First Sight' Couples Have A Tough Decision To Make
It's hard to imagine getting married to someone you literally just met, but that's the premise of Lifetime's reality series Married at First Sight. Three couples are matched using a compatibility algorithm and a team of experts, and then are introduced to each other on their wedding day. The couples get eight weeks to decide if they want to stay together, so fans are wondering, will any of the couples stay married on Married at First Sight?
So far, it looks like the couple with the best chance of success is Danielle Bergman and Bobby Dodd, who have had a sweet relationship from the beginning. Amber Martorana and Dave Flaherty have had their share of issues, but they have been trying to make things work. However, there still isn't any official update on either of these couples' marital statuses, and fans won't know if they remained married until after the Season 7 finale.
But there has been some public divorce news for one of the show's three couples. According to People, Mia Bally filed for divorce from her husband Tristan Thompson on Sept. 4. The couple faced relationship challenges from the day they left for their honeymoon. Mia was arrested at the airport on charges of stalking and credit card fraud, Newsweek reported, which understandably threw Tristan for a loop.
Despite Mia insisting that the allegations against her (brought on by an ex) were false, Tristan did not fully trust her. He later found out that she had an active profile on a dating app, which made him even more skeptical of her intentions. But the two tried to make things work, and with the help of the show's marriage experts, they seemed happy for a little while.
But in a trailer for the latest episode, you can see how things took a turn for the worse. Mia is hesitant about moving to Houston with Tristan, which leads him to throw her out of his home. He places her things in the outside hallway and tells her to move back to her place. "He basically gave me an ultimatum that I needed to go to Houston or I can't stay here in our home," said Mia. "It's just sad that something so small, he's already just put my stuff out. This clearly just changed everything."
Tristan explained that Mia's hesitation was a final straw in a relationship that was draining him. "I have pushed myself so much during this month and a half, but that doesn't mean that I'm going to sit here and go through this for the rest of my life — same old explosions and miscommunications, I can't live like this," Tristan said in the clip. "I have basically reached my breaking point." With that much anguish festering in their relationship, it is no surprise that the two are headed for divorce.
Dave and Amber have been struggling somewhat as well, and according to Radar Online, Dave said he is on the "fence" about staying married. "There are a lot of really good times with Amber and then there are some tough times as well," Dave said in an exclusive trailer for the final episode. "There are a lot of reasons to be encouraged, but there's also a few reasons to be discouraged. It's a lot to think about as we come here to the end."
So, the only couple with a marriage status update is Mia and Tristan, who are officially headed for divorce. The Season 7 finale should provide some closure on the other couples' relationships, and finally reveal which newlyweds decided to stay together.
The season finale of Married at First Sight airs on Tuesday, Oct. 2 at 9 p.m. ET on Lifetime.