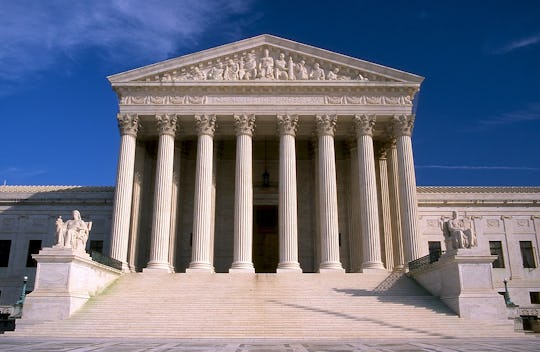 Pixabay
Will Any Supreme Court Cases Be Affected Or Delayed By Antonin Scalia's Death?
Justice Antonin Scalia died on Saturday from natural causes after an afternoon of quail hunting at the Cibolo Creek Ranch in Shafter, Texas. He was 79 years old. And while Scalia lived a full life, his death was sudden and is now being considered a major setback for the conservatives, especially if President Barack Obama fills the now-empty Supreme Court seat while he still in office (a question many are still asking and, um, arguing about). But, regardless of who takes the seat and when, Scalia's death will affect several Supreme Court cases — and may even delay some cases — as the court is now divided evenly between liberals (four) and conservatives (four), though the court is tilted slightly to the left because, as USA Today reported, Justice Anthony Kennedy often takes the liberal side.
And this is huge, as many of the cases currently "on the docket" tackle issues traditionally divided along party lines: i.e. everything from abortion rights and birth control to affirmative action, the power of labor unions, and Obamacare. Without a "tie-breaking" vote, the Supreme Court's ruling is essentially meaningless, as the most recent decision — usually from a federal appeals court or a state court — is upheld, according to USA Today.
So what pending cases are in danger of being delayed, ignored, or otherwise impacted?
Affirmative Action
In December, the Supreme Court reviewed Fisher v. University of Texas, a case brought against the school by Abigail Fisher, a white student, according to the The New York Times. Fisher argued the University of Texas denied her admission in 2008 because of her race and "affirmative action." Justice Scalia played a leading role in this case, noting that some African Americans may do better in "less advanced" or "slower-track" schools, according to USA Today:
­I don't think it stands to reason that it's a good thing for the University of Texas to admit as many blacks as possible.
However, even without his vote, the school's affirmative action program may still be doomed, as liberal Justice Elena Kagan has recused — and set up a possible 4-3 vote.
Labor Unions
On Jan. 11, the Supreme Court heard a labor union case, Friedrichs v. California Teachers Association, which, it seemed, was sure to deal a big blow to unions. In short, the case brought forth by 10 California teachers, argued that forcing public workers to support unions they have declined to join violated their First Amendment rights, and, according to The New York Times, the conservative majority court agreed. However, with the Supreme Court now split, this once slam-dunk case for conservatives seems impossible, as a tie vote looms that will either put the entire case on hold until a new Justice is appointed or maintain the lower-court's decision, which was contrary to that of the conservative justice's.
Abortion
In Nov. 2015 the Supreme Court agreed to hear its first major abortion case since 2007. According to USA Today, the case, which is scheduled to be heard in March, is a challenge to a Texas law that imposes tough new restrictions on doctors and facilities and is slated to leave the state with just 10 abortion clinics, down from more than 40. This case had the potential to be the biggest federal reproductive rights case since 1992; however, if supporters of abortion rights don't win outright — with the support of Kennedy or another conservative justice — a 4-4 tie will almost certainly occur, upholding the Texas law and failing to set a new national precedent.
Contraception
In yet another women's health case, the matter of birth control was slated to be discussed on March 23. The case, which stood a good chance of winning under Scalia's watch, charges religious non-profits — such as charities, schools and hospitals — should be able to seek an exemption from the Affordable Care Act's employer paid contraception mandate, according to USA Today. (Not that employers must pay for contraception, but that insurance companies do.) However, without a conservative majority, a 4-4 tie vote is likely, leaving the so-called "contraceptive mandate" in place for those non-profits.