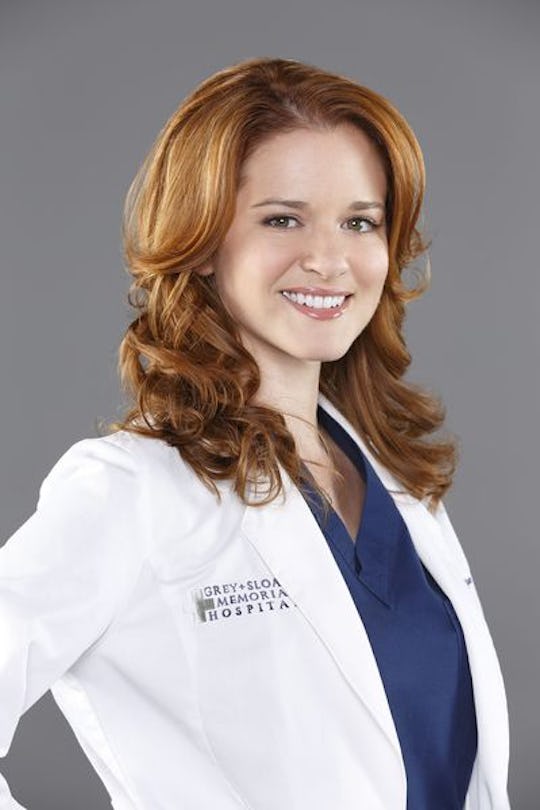 Bob D'Amico/ABC
April's Departure From 'Grey's Anatomy' Could Result In Tragedy
In case you haven't already heard, Season 14 of Grey's Anatomy will be the last for April Kepner (Sarah Drew) and Arizona Robbins (Jessica Capshaw). The two actresses were let go when the producers chose not to renew their contracts for the next season. With two series regulars leaving, fans can't help but wonder how the characters will exit. Many fans are even wondering if April will die on Grey's Anatomy. Unfortunately, the probability does seem fairly high at this point.
During the second half of this season, April has been going through a religious existential crisis. She's pretty much lost all hope in God, totally foregoing the idea to wait until marriage to have sex. While yes, she did decide to lose her virginity to Jackson before marriage, this is totally different. April's not only having sex, she's now having sex with multiple people, drinking a lot, and she's been in an altogether sour mood lately.
She's totally thrown out all her beliefs and has pretty much given up on believing that God has a plan or that things happen for a reason. At this point she pretty much feels that if no one's going to "follow the rules" as she said in the last episode, then why should she. Of course, she absolutely has the right to have whatever kind of sex life she wants, but her lack of caring about anything just isn't the April we've come to know.
This change in her attitude is why many believe April may die, especially with her increased drinking. It's possible that April could end up drinking and driving, thereby resulting in a fatal car accident. Although I'm not entirely sure I believe April has gone so far off the deep end that she'd consciously do something so reckless. But with this new April, who knows?
Another, and much more dark possibility, that I'd rather not believe is that April chooses to end her life. She's clearly in a bad place right now and she's lost all of her faith in God and the world. Although everyone has the right to be sexually active and have a good time, April's been doing it as a form of escapism, and her current lifestyle isn't actually making her happy. In fact, it seems with each passing episode, April has only got angrier and more upset, even at the little things. So much so that it's even impacting her job now.
Even though Jackson is definitely concerned, he's also a bit too distracted by Maggie right now to really reach out to April and try to help her. Arizona, on the other hand, is sure that April is just fine and she's also busy working on her project with her research/romantic partner. Meanwhile, the interns just think April is a fun time. No one's really taking her downward spiral seriously.
Hopefully, it doesn't come to that. April has been on a part of the series since Season 6 and she deserves a much better ending than that. However, it's hard to imagine how April can leave the show without it being as a result of her death. She has a child, Harriet, with Jackson, so it's not like she would just leave Seattle without her, and unlike with what happened with Callie and Arizona, I find it highly unlikely that Jackson would allow April to leave with his kid. Plus, the show has already done the custody battle storyline so I can't see that happening again.
So having her die kind of feels like the only possible option right now. Still, there are number of way that could actually happen so fans will just have to watch to see how this all plays out.
Check out Romper's new video series, Romper's Doula Diaries:
Watch full episodes of Romper's Doula Diaries on Facebook Watch.