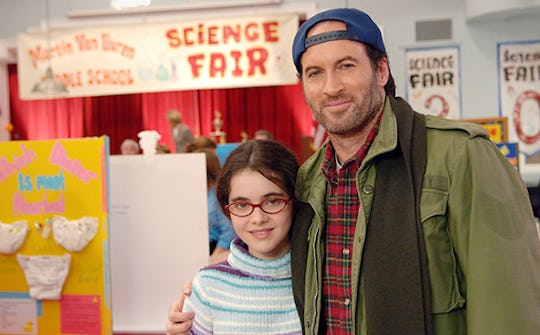 Warner Bros.
Will April Return For The 'Gilmore Girls' Revival'? Vanessa Marano Is Back In Stars Hollow
The Gilmore Girls revival is almost here and fans can't wait to finally know what's going on with their favorite ladies and the residents of Stars Hollow. One thing fans aren't excited about is the return of Luke's daughter April in the Gilmore Girls revival. April, played by Vanessa Marano, first appeared in Season 6 of Gilmore Girls when she went to Luke to get a DNA sample for her science fair project. She wanted to uncover who her father was and it turned out Luke was in fact her dad. Surprise!
The reveal of Luke's secret kid annoyed most Gilmore Girls fans, especially because many blamed April for the eventual break-up of Luke and Lorelai. After discovering he had a daughter, Luke didn't tell Lorelai for some reason and once she found out, she was disappointed that he had hidden such a monumental thing from her. Then when Luke wanted to postpone their wedding because he felt there was too much going on with him given that he was still trying to get to know April, Lorelai attempted to keep it together, but in the end that was the last straw for her. The two ended up breaking up and Lorelai slept with Christopher, putting the final nail in the Luke-Lorelai coffin (at least temperarily).
Because of this, fans were not at all excited when news broke that Marano would be in the revival. And even though Luke and Lorelai reunited at the end of Season 7 and still appear to be together in the revival, fans still find April's return to be a bad sign. However, it's actually not all that unreasonable that Luke's daughter would appear in the revival regardless of where his relationship status with Lorelai stands. Even if Luke and Lorelai are living happily ever after, his daughter would still be part of his life. Lorelai didn't write that beautiful letter just so Luke could have shared custody of April and then not remain a vital part of her life from then on out. Luke wants to be a dad and in the year that the revival will take place, it would be strange if Luke didn't see his daughter once throughout that whole time. Plus, April is pretty much a full-blown adult at this point in time, so how much trouble could she possibly cause?
So basically, Gilmore Girl fans shouldn't freak out. The return of April will probably be fine and who knows, maybe she won't stick around for that long anyway. And if she does, maybe this adult version will prove to be a lot more likable in the eyes of the viewers. You never know!