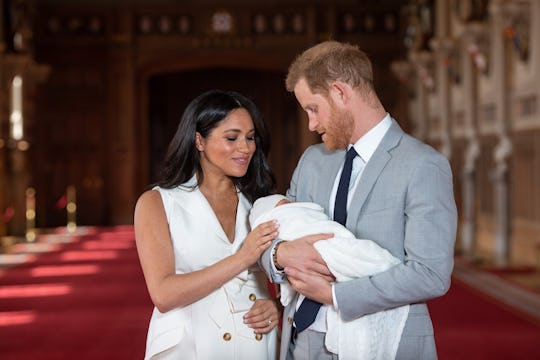 WPA Pool/Getty Images Entertainment/Getty Images
Meghan Markle & Prince Harry May Break Royal Tradition With Archie's Christening
From the day Prince Harry and Meghan Markle welcomed their first child, it was clear they would be doing things a bit differently than the Duke and Duchess of Cambridge. Although Prince William and Kate Middleton introduced their newborns to the world mere hours after their birth, Harry and Meghan opted to wait two whole days instead. Of course, the Duke and Duchess of Sussex probably have a bit more leeway since Harry is further down in the line of succession. But still. I'm sure it has led plenty of royal fans to wonder: Will Archie's christening be on TV?
It's worth mentioning that although baby Archie doesn't have a royal title, he is still technically seventh in line to the throne — behind Prince Charles, Prince William, Prince George, Princess Charlotte, Prince Louis, and his father Prince Harry. So there are certain expectations from the public and royal fans when it comes to photo opportunities and royal appearances. However, it seems the Duke and Duchess of Sussex have much different plans for baby Archie than living up to silly, old expectations. Because apparently, Archie's christening is likely to be closed to the press entirely.
Royal sources have confirmed with the Sunday Times that Prince Harry and Meghan Markle are planning to have a private baptism from their son. The christening will reportedly be held at St. George's Chapel in Windsor, where Harry and Meghan were married in 2018.
As E! Online reported, Prince William and Kate Middleton allowed press photographers to snap pictures of their family as they arrived and departed the christenings for Prince George, Princess Charlotte, and Prince Louis. Furthermore, William and Harry's cousins — Princess Beatrice and Princess Eugenie — were photographed with their parents, the Duke and Duchess of York, before and after their christenings. So I'm sure plenty of royal fans automatically assumed Prince Harry and Markle would be doing the same with Archie.
Then again, Harry and Meghan have already shown they're forging their own path when it comes to parenthood. Instead of standing on the steps of St. Mary's Hospital mere hours after their son was born on May 6 — like William and Kate did with all three of their children — the Duke and Duchess of Sussex let the public know they were taking two days to themselves with the new baby. And even then, Archie's face remained partially covered by a swaddle blanket as the new parents answered questions from the press.
Since Archie's initial debut, the Duke and Duchess of Sussex have shared a couple of photos of him via Instagram. However, they were either of his tiny, adorable baby feet on Mother's Day ...
... Or with Harry's hands covering half of the newborn's face in this photo posted on Father's Day.
Prince Harry and Meghan Markle opting for a private christening for Archie would, no doubt, disappoint fans. But it's important to keep in mind that this is their kid and their lives — so they have the right to do whatever they damn well please. The way I see it, if the Duke and Duchess of Sussex want to raise their son in a more low-key way than royals before them, then more power to them.