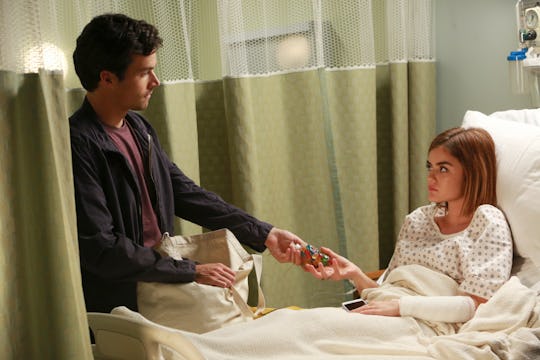 Ron Tom/ABC
Will Aria and Ezra Get Back Together On 'Pretty Little Liars' Season 7? Their Book Could Cause Them To Reunite
From the very first episode of Pretty Little Liars, Aria and Ezra seemed like one of the OTPs of the show. Over the last six seasons, the couple has faced an unrealistic amount of challenges — honestly, if they can stick together during stalking and tormenting, they can get through anything — and somehow always came out on top (well, for the most part.) Then, their on-again, off-again relationship came to an end in Season 5 when Aria planned on going to college. But, Season 6 allowed the two to reunite, proposing the question of if Ezria will get back together on Pretty Little Liars Season 7? UPDATE: In the 6B finale, Ezra and Aria slept together after realizing their book was going to be a huge hit and rekindling old feelings.
Season 6B was a strange reuniting for Ezria. The two had gone their separate ways after Aria went to college, but found themselves together again when Aria needed to push Ezra to work on the book he promised her boss and his publisher. Then, Ezra went MIA, and Aria started to worry he had something to do with Charlotte's murder. Even though he didn't have anything to do with it (that we know of...), it wasn't that far-fetched to think that Ezra would kill to protect Aria. Cue the potential rekindling of Ezria.
Now, don't forget that Aria's current Facebook relationship status is "In A Relationship" with Liam, her co-worker and boyfriend in Boston. Liam found out the awkward way that Aria and Ezra were former flames, but seems to be fine with the fact that he and Aria are going to co-write his next book together. Which brings me to my next point: Aria and Ezra are going to co-write a book together.
Now, it just seems like these two are getting closer and closer. Personally, I'd be happy with Aria dumping Liam and finding her way back to Ezra, but I don't know if that's best for her at the moment. She's been through a lot lately, and some stability may be best for her. Leaving Rosewood and getting back to Boston, continuing her career, and furthering her relationships beyond those that have been apart of her past might be the solid foundation she needs after the 6B finale. While I think that all of that is easier said than done, I'm putting it out in the universe for I. Marlene King to do whatever she'd like with it.