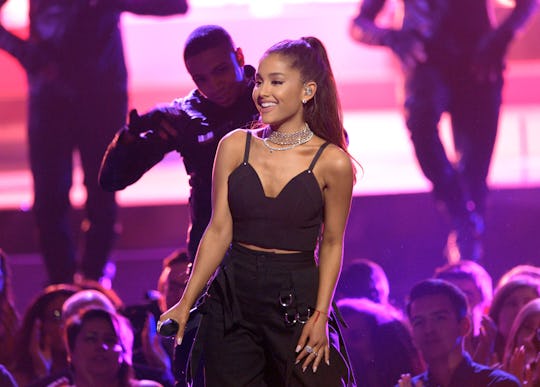 Kevin Winter/Getty Images Entertainment/Getty Images
Will Ariana Grande Bring Mac Miller to the VMAs? It May Be Their First Public Appearance
It's almost time for the VMAs, one of music's biggest nights of the years. The VMAs are known for being filled with drama and big performances but one of the best parts of the show is seeing who shows up on the red carpet and with who. Recently news broke that Ariana Grande was allegedly dating rapper Mac Miller, which is leading some to wonder if Ariana Grande will bring Mac Miller to the VMAs. Grande and Miller have been long time friends and collaborated together on Grande's breakout single "The Way," back in 2013. If they do show up at the VMAs together, it will be their first red carpet appearance as a couple.
At the recent launch of Grande's new MAC cosmetics line, Viva Glam, she avoided any questions about whether or not she and Miller were seriously dating, only stating that she enjoys making music with him. Could that mean they'll be another duet between the two of them soon?
As of right now neither Grande or Miller are commenting on their relationship status, so it seems unlikely that they'll make a red carpet appearance together at the VMAs. However, maybe that'll be their way of confirming their relationship. Anything is possible when it comes to the VMAs, and with the world watching, that could be a cute way to announce their new relationship.
Grande has five VMA nominations this year for her songs "Into You" and "Let Me Love You", so it wouldn't be too surprising if Miller goes to the VMAs to support her, even if they don't walk the carpet together. Either way, it'll be interesting to see what this new couple does at the VMAs or if they're really even a couple at all. Grande's fans are conflicted about their favorite star's new relationship. On Tuesday, "Ariana and Mac," was trending on Twitter when photos surfaced of the two kissing. Since then, everyone's offered up their own opinions about the pairing, both good and bad.
Whether or not Grande and Miller are meant to be or just an end-of-summer fling, here's to them doing whatever makes them happy. Make sure to tune into the VMAs on Sunday, August 28 at 9 p.m. ET to see if this duo will make an appearance together, separately, or not at all.